Intelligent Video Analytics
The Surveon Video Analytics (VA) is a real-time video analytics solution that turns standard surveillance into an intelligent system. By performing the real-time analysis of the video stream, the Surveon VA identifies and initiates alerts for various user-defined events, offering effective monitoring, detections, alerts, and responses to events for a variety of applications.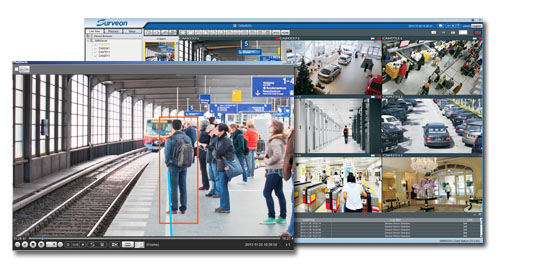 Features
Videos
Specifications
Product Matrix
Download
Proactive Monitoring Improves Effectiveness
Surveon Video Analytics allows users to minimize the hassle for 24/7 surveillance, with highlights of only the notable events, turning monitoring from passive to proactive. Surveon VA allows security personnel to react fast and improve efficiency and effectiveness. More channels of monitoring can also be achieved without increasing the number of manned guards and operators.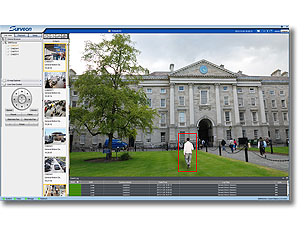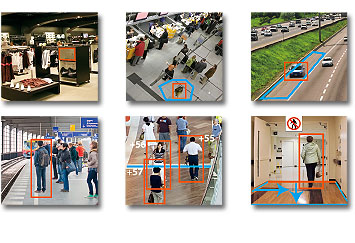 Wide Range of Intelligent Detecting Capabilities
Surveon analytical detections can be intelligently tailored to meet specific security or business needs. The basic Motion and Tampering detections can be used for general security; while the Missing Object, Intrusion, Forbidden Area detections are designed for detecting potential risks. The advanced VI, Virtual Fence, Going Out, Tailgating, Object Counting can be applied for mission-oriented professional security projects.
Time and Cost-effective Investigation
Using Surveon Video Analytics, massive recordings can be distilled and meaningful events can be labeled for smart investigations. By selecting the specific camera, time, and events to narrow down the search, target videos can be accessed within a few seconds, rather than watching the footage for hours. With Surveon's case-based investigation method, security teams can put notes on videos and follow the relevant events for further investigations.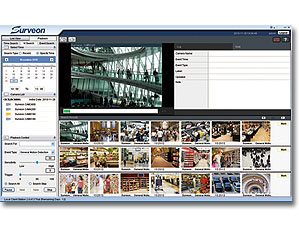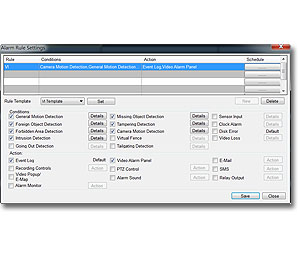 Powerful Integrated Detection Rules
Surveon VA can be integrated with the VMS alarm management to complete the surveillance solutions. Any triggered event can be directed to relating actions, for example, alarm notifications, email, SMS, DI/DO, recording control, PTZ and so on. By integrating with other subsystems, such as access controllers or intelligent building automation systems, SIs can customize the detecting rules to different scenarios to prevent potential threats and optimize operations.
VA Enterprise Specifications
VA Function
Detection Object
Behavior
Trigger Criteria
General Motion Detection
Person

Person moving in an area

Automatically detect the moving target entering the security area. When it moves, an alarm will be triggered

Preset - Person moving in an area
Once the Alarm trigger can move PTZ to the preset point
Vehicle
Vehicle moving in an area
Automatically detect the moving target entering the security area. When it moves, an alarm will be triggered
Preset - Vehicle moving in an area
Once the Alarm trigger can move PTZ to the preset point
Missing Object Detection
Static Object
Asset protection
When object in the detection zone has been taken over the set time, an alarm will be triggered. Also, the original position of the taken object will be marked
Preset - Asset protection
Once the Alarm trigger can move PTZ to the preset point
Foreign Object Detection
Vehicle
Stopped vehicle
Detect the foreign object in the security area. Once an object stays in the area over the set time (you can define the time by yourself), an alarm will be triggered immediately, and the position of this object will be marked by an alarm frame
Preset - Stopped vehicle
Once the Alarm trigger can move PTZ to the preset point
Static Object
Suspicious object
Detect the foreign object in the security area. Once an object stays in the area over the set time (you can define the time by yourself), an alarm will be triggered immediately, and the position of this object will be marked by an alarm frame
Preset- Suspicious object
Once the Alarm trigger can move PTZ to the preset point
Traffic obstacle
Detect the foreign object in the security area. Once an object stays in the area over the set time (you can define the time by yourself), an alarm will be triggered immediately, and the position of this object will be marked by an alarm frame
Preset- Traffic obstacle
Once the Alarm trigger can move PTZ to the preset point
Intrusion Detection
Person
Person crossing a line
Detect the moving object entering or leaving the specific detection zone. Three alarm modes: in/out all (mark the object entering the zone and triggers an alarm/mark the object leaving the zone and triggers an alarm/ mark both the object entering and leaving the zone and triggers an alarm) can be set
Preset- Person crossing a line
Once the Alarm trigger can move PTZ to the preset point
Vehicle
Vehicle crossing a line
Detect the moving object entering or leaving the specific detection zone. Three alarm modes: in/out all (mark the object entering the zone and triggers an alarm/mark the object leaving the zone and triggers an alarm/ mark both the object entering and leaving the zone and triggers an alarm) can be set
Preset- Vehicle crossing a line
Once the Alarm trigger can move PTZ to the preset point
Forbidden Area Detection
Person
Person moving in an area
Trigger alarms when the moving object enter the detection zone; alarms will not be triggered when it is leaving
Preset- Person moving in an area
Once the Alarm trigger can move PTZ to the preset point
Vehicle
Vehicle moving in an area
Trigger alarms when the moving object enter the detection zone; alarms will not be triggered when it is leaving
Preset- Vehicle moving in an area
Once the Alarm trigger can move PTZ to the preset point
Static Object
Traffic obstacle
Trigger alarms when the moving object enter the detection zone; alarms will not be triggered when it is leaving
Preset- Traffic obstacle
Once the Alarm trigger can move PTZ to the preset point
Tampering Detection
Static Object
Camera loses focus or scene change or blocked
When the camera is blocked, loses focus other scene is changed, an alarm will be triggered
Preset- Camera change focus or scene change or blocked
Once the Alarm trigger can move PTZ to the preset point
Virtual Fence
Person
Person crossing a line
When a moving target crosses over the virtual fence, an alarm will be triggered
Preset- Person crossing a line
Once the Alarm trigger can move PTZ to the preset point
Vehicle
Vehicle crossing a line
When a moving target crosses over the virtual fence, an alarm will be triggered
Preset- Vehicle crossing a line
Once the Alarm trigger can move PTZ to the preset point
Object Counting
Person
Count people
When a moving target crosses over the set virtual fence, an alarm will be triggered and also numbers will be counted
Vehicle
Count vehicles
When a moving target crosses over the set virtual fence, an alarm will be triggered and also numbers will be counted
Tailgating Detection
Person
Person tailgating
The alarm will be triggered, when an object is moving in the same direction but does not stop before crossing the dividing line in the detecting areas
Preset- Person tailgating
Once the Alarm trigger can move PTZ to the preset point
Vehicle
Tailgating vehicle
The alarm will be triggered, when an object is moving in the same direction but does not stop before crossing the dividing line in the detecting areas
Preset- Tailgating vehicle
Once the Alarm trigger can move PTZ to the preset point
Go out Detection
Person
Person crossing a line
Once an object enters the restricted zones, it must not leave. If attempting to leave,the alarm will be triggered
Preset- Person crossing a line
Once the Alarm trigger can move PTZ to the preset point
Vehicle
Vehicle crossing a line
Once an object enters the restricted zones, it must not leave. If attempting to leave, the alarm will be triggered
Preset- Vehicle crossing a line
Once the Alarm trigger can move PTZ to the preset point

Hardware Requirements

VMS Server + Client
>32CH
16~32CH
<16CH
OS

64-bit :
Windows 7 Home Basic, Home Premium, Professional, Enterprise, Ultimate

CPU
Intel Core i7 or above
Intel Core i7 or above
Intel Core i5 or above
Memory
4 GB or above
Display
nVidia Geforce GTX660 2GB or above
HDD
SATA 7200 RPM, 500 GB or above
Network
1 Gbps or above
Remote Client
>32CH
16~32CH
<16CH
OS

64-bit :
Windows 7 Home Basic, Home Premium, Professional, Enterprise, Ultimate

CPU
Intel Core i7 or above
Intel Core i7 or above
Intel Core i5 or above
Memory
4 GB or above
Display
nVidia Geforce GTX660 2GB or above
HDD
SATA 7200 RPM, 500 GB or above
Network
1 Gbps or above
VMS Server Only
>32CH
16~32CH
<16CH
OS

64-bit :
Windows 7 Home Basic, Home Premium, Professional, Enterprise, Ultimate

CPU
Intel Core i3 or above
Memory
4 GB or above
Display
On board (generic) 256MB or above
HDD
SATA 7200 RPM, 500 GB or above
Network
1 Gbps or above
Feature Matrix
VMS Professional

VMS Enterprise

System
Supported Operating Systems
64-bit : Windows 7 Professional, Enterprise, Ultimate
64-bit : Windows 7 Professional, Enterprise, Ultimate
64-bit : Windows 7 Professional, Enterprise, Ultimate
Supported Web Browsers
Internet Explorer
Internet Explorer
Internet Explorer
Supported Mobile Client
Android, iOS
Android, iOS
Android, iOS
Free Client Software
v
v
v
Max Cameras per Server
32
(Surveon Camera Only)
64
Unlimited
Max Server Connections per Client
1
1 or Multi
Unlimited
Number of Concurrent Connections
180
180
Unlimited
System Management
Device Auto Scan (Smart Search)
v
v
v
Device Overview
v
v
v
Support DDNS Function
v
v
v
Support NTP Server
v
v
v
IP Address Filtering
v
v
v
System Diagnostics
v
v
v
Server Health Monitoring
v
v
v
Central Health Monitoring
-
-
v
Client Joystick Configuration
v
v
v
Support Ethernet I/O device
v
v
v
Digital I/O Management
v
v
v
Central I/O Management
-
-
v
Central Device Configurations
-
-
v
Central License Management
-
-
v
Live Monitoring
PTZ Control
v
v
v
PTZ Tours and Presets
v
v
v
On Screen PTZ Control
v
v
v
Digital Zoom Control
v
v
v
Text Overlay
v
v
v
Privacy Masking
v
v
v
Megapixel/HD Video Support
v
v
v
Video Aspect Ratio
v
v
v
HTML and Image Overlays
v
v
v
Multiple Views Divisions
v
v
v
Carousel/Sequence
v
v
v
Video Clip Bookmarking
v
v
v
Event Notifications
v
v
v
Multiple Layer E-Maps
v
v
v
Picture in Picture Display
v
v
v
Fish-Eye Support (Live and Playback)
v
v
v
Floating Windows
v
v
v
Multiple Monitors Support
v
v
v
Virtual Matrix
-
v
v
Video Wall Management
-
-
v
On Screen Virtual Automation Button
-
-
v
Search, Playback, Backup and Export
Instant Playback
v
v
v
Multiple Camera Playback
v
v
v
Synchronized Playback
v
v
v
Frame-by-Frame
v
v
v
Simultaneous Video Export
v
v
v
Multiple Camera Backup & Export
v
v
v
DVD Backup & Export
v
v
v
Customizable Bookmark
v
v
v
Graphical Timeline Search
v
v
v
Alarm Event Search
v
v
v
Thumbnail Search
v
v
v
VI Analyzer Search
-
v
v
Storage & Recording
Support Multi-Streaming
v
v
-
Digital Watermark Proofing
v
v
-
Pre-Post Alarm Recording
v
v
-
Synchronized Audio Recording
v
v
-
Video Retention Time
v
v
-
Automatic Storage Recycling
v
v
-
Recording on Schedule
v
v
-
Recording on Motion
v
v
-
Recording on VI Alarm
-
v
-
Network Storage Support
-
v
-
SAS/iSCSI Storage Support
-
v
-
Alarm Management
Alarm Panel Index
v
v
v
Alarms/PTZ Management
v
v
v
Alarms/Outputs Management
v
v
v
Email/SMS Notification on Alarm
v
v
v
Live View Popup on Alarm
-
-
v
Advanced VI Alarm
-
v
v
Account Management
Default Account Profiles
v
v
v
Customized Authority Account Management
v
v
v
Central Account Management
-
v
v
Integrations
API/SDK
v
v
v
ONVIF Support
v
v
v
Third Party Cameras Support
-
v
v
POS Overlay Integration
-
Coming Soon
Coming Soon
Access Control Integration
-
Coming Soon
Coming Soon
License Plate Recognition (LPR) Integration
-
Coming Soon
Coming Soon
Datasheet

Brochure
Quick Installation Guide
AE Specifications