Megapixel VMS Solution Meets Your
Enterprise Security Demands
The Surveon Video Management Software (VMS) is an enterprise-grade security management solution. Scalable and effective, the Surveon VMS is based on the client-server architecture and featured with intuitive monitoring, real-time detection, intelligent searches, video analytics, investigative tools, multi-access, easy scalability, and optimized megapixel recording to deliver highly integrated and reliable solutions.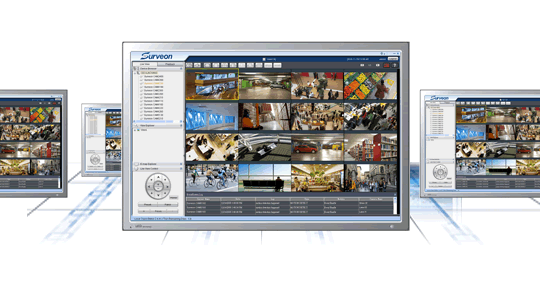 Features
Videos
Spec. (Linux)
Spec. (Windows)
Download
Intuitive Platform Makes It Easy to Use
Surveon VMS is preinstalled and works on a simple and compelling platform; monitoring, playback, configuration, and other advanced controls can be done in the same straightforward principle whether log in locally or remotely. It simplifies the complicated video management, integrates different applications with powerful controlling functions, and requires only minimal trainings to fully control and conduct the VMS.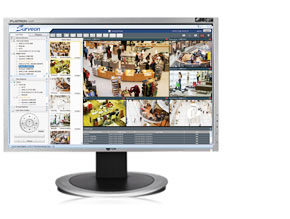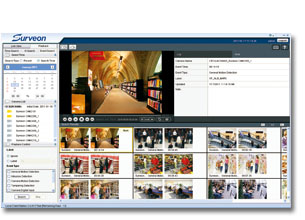 Intelligent Search Improve Efficiency
Surveon smart search provides users with a total awareness controlling framework, turning massive data to actionable and meaningful information. Wherever and whenever there is an incident, with Surveon real-time VI, according to the live view, snapshots, pop-ups, and instant playback, security personnel can react right away to minimize the damage. By setting different VI detections, real-time triggered events can be labeled for smart investigations and business intelligence.
Optimized for Megapixel Surveillance
Different from the commercial off-the shelf PC+VMS solutions, Surveon NVR is specially designed for megapixel surveillance. The in-house and proprietary designed NVR and SMR series are featured with enterprise hardware RAID 0, 1, 5, supporting up to 64-channel Full HD recording. The enterprise RAID subsystem storage offers the maximum performance and highest reliability to ensure no video loss.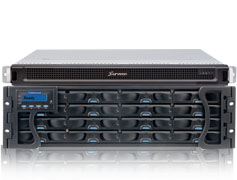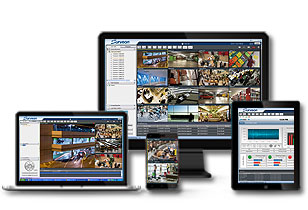 Multi-access Makes Surveillance Simple and Flexible
In addition to the powerful functions of VMS client, Surveon VMS mobile client provides users with easy and accessible solutions. Whether through browsers or via applications for iOS and Android mobile devices, users can review both live and stored video remotely on the same intuitive platform anywhere, anytime, taking advantage of this accessibility and performing different monitoring tasks on the go.
Open Platform and Easy Integration
Surveon surveillance solutions are built on the same open platform, allowing easy integration with the existing security systems and future expansions. Surveon VMS supports more than 600 IP cameras, integrates with various subsystems through I/O boxes, and controls the connected devices from the embedded alarm rule management, providing users with opportunities to optimize their network security infrastructure while taking advantage of Surveon central management, video analytics and powerful search engine.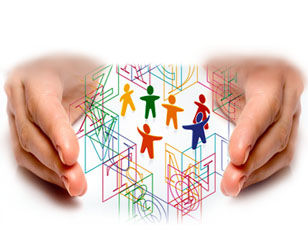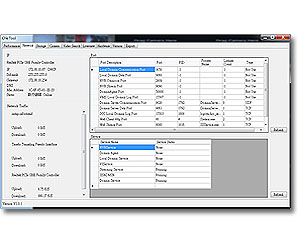 Ensure the Health of Your Overall System
To maximize the overall system uptime, lower the risk of shutting down, and optimize maintenance, Surveon VMS diagnosis system constantly checks the overall system status, monitoring NVR hardware, camera connection, network loading, storage capacity, bandwidth status, and live view performance. With just one click away, the system status report will be presented with every detail for further examination. Any errors will show up on the event log or with notifications via email or SMS according to the configurations.
VMS Specifications (for Linux-based NVR)
Live View

Real-time network camera discovery
Versatile views of various screen divisions
Multiple views supported
View patrolling for single or multiple views
Real time video/event alarm monitoring
Support 3 installation modes and 5 different fisheye dewarp display modes
Support live audio

eMAP

Drag-n-drop camera manipulation
Hierarchical and multiple layer map structure
Real time event alert
Instant live video of camera


PTZ

Pan, tilt, and zoom operations (depends on camera)
Built-in PTZ control panel
Preset position (depends on camera)
Event-driven camera patrolling
Support OnScreen PTZ


I/O

Digital I/O management
Support Ethernet Digital I/O Controller

Multiple Displays

Support dual monitors*
Supports live view, playback, eMap functions (depends on product)
Direct display to secondary monitor(s)*

Investigation

Search by date, time, and camera
Search by VI event combinations
Search over multiple days
Search over multiple cameras
Different colored recording indicator on calendar
Search via built-in VI analyzer
Intuitive, video thumbnail search results
Cue-in, cue-out and loop playback
Quick playback by video thumbnails
1/8, 1/4, 1/2, 1x, 2x, 4x, 8x play, pause, stop
AVI-formatted video clip export
Up to 16 channel synchronized playback (depends on product)
Support 3 installation modes and 5 different fisheye dewarp playback display modes

Video Intelligence
Recording Policy

Supports up to 128 channels megapixel recording (depends on product)
Continuous recording
Event-driven recording along with rules
Scheduled recording on daily or weekday basis
Post alarm recording 1-300 seconds
Pre-alarm recording 1-300 seconds
Support individual schedule recording

Rule Manager

Conditional recording/alert/notification
Email, FTP, SMS, popup window, PTZ,VI Panel,Relay output notifications
Sound, alarm, round-the-clock alerts
Support email template

Remote Management

Remote operation & management via VMS Client
Remote management and control via SCC & SCC Client

Remote Client

Web Client
iPhone client
Android Client

3rd Party IPCAM

ACTi, Arecont Vision, Axis, Dahua, Dynacolor, Hikvision, IQinvision, Mobotix, Panasonic, and more

Storage Expansion

Built-in RAID storage management
Recording to iSCSI/NAS
Backup to iSCSI/NAS

General & Misc.

Video privacy mask
Digital zoom in, zoom out
Log viewer, log export mechanism
Client auto login
Automatic storage recycling
Client-server architecture
Customized authority account management
Digital watermark proofing
Support DDNS function
Support time synchronization with NTP server
Provide System and VI setup Help assistance
Support Customized Event management and log mechanism
Auto port mapping for internet connection
Support batch setting IPCAM parameters
Support Health Check function
Support standby recording (Failover)
Support offline recording with Surveon cameras
Support APC SMART-UPS

Language
Support multiple language on VMS including English,Czech, Dutch, French, German, Italian, Japanese,Korean, Persian, Polski, Portuguese, Russian, Slovak, Spanish, Turkish, Simplified Chinese, Traditional Chinese
* Available soon.
VMS Specifications (for Windows-based NVR)
Live View

Real-time network camera discovery
Versatile views of various screen divisions
HTML and image overlays
Multiple views supported
View patrolling for single or multiple views
Real time video/event alarm display
Instant playback
Video clip bookmarking
Support 3 installation modes and 5 different fisheye Dewarp display modes
Support PAP(picture in picture) Display
Support 2 way audio

eMAP

Drag-n-drop camera manipulation
Directional camera display
Hierarchical map structure
Real time event alert
Instant live video of camera
Multiple layer maps supported

PTZ

Pan, tilt, zoom operations (dependent of camera)
Built-in, floating PTZ control panel
Preset position (dependent of camera)
Scheduled or continuous camera patrolling
Event-driven camera patrolling
Support on Screen PTZ with 8 directional virtual control pad
Support CH Products USB joystick

I/O

Digital I/O management
Support Ethernet I/O device

Multiple Displays

Up to 8 monitors
Supports live view, playback, eMap functions
Direct display to secondary monitor(s)

Investigation

Search by date, time, camera
Search by pre-defined recent time
Search by VI event combinations
Search over multiple days
Search over multiple cameras
Frame by frame / Key frame modes playback
Video clip bookmarking and commenting
Different color display on recorded data date
Search via built-in VI analyzer
Customizable bookmark
Intuitive, video thumbnail search results
Cue-in, cue-out and repeat
Quick playback by video thumbnail
1/8, 1/4, 1/2, 1x, 2x, 4x, 8x play, pause, stop
AVI-formatted video clip export
4-channel synchronized playback
5 different time interval scroll bar drag and drop playback
Support full screen playback mode
Support 3 installation modes and 5 different Fisheye Dewarp playback display modes

Instant Playback

Supported in video alarm, event alarm, view functions
Pre-defined playback durations
Video clip bookmarking

Video Intelligence

Recording Policy

Supports up to 64 channels megapixel recording
Continuous recording
Manual recording
Event-driven recording along with rules
Scheduled recording on daily or weekday basis
Post alarm recording 5-45 minutes
Pre-alarm recording 5-45 minutes

Rule Manager

Conditional recording/alert/notification
Email, FTP, SMS, popup window, PTZ,VI Panel,Relay output notifications
Sound, alarm, round-the-clock alerts

Remote Management
Full functional operation & management via VMS Client
Remote Client

Web Client
iPhone client
Android Client

3rd Party IPCAM
ACTi, Arecont Vision, Asoni, AVTECH, AXIS, Bosch, Brickcom, Dahua, D-Link, Dynacolor, EDIMAX, EverFocus, Hikvision, IQinvision, Lilin, Messoa, Mobotix, Panasonic, Samsung, Shany, SIMON, SONY, Sunell, Vivotek
Storage Expansion

Supports Infortrend RAID storage
Built-in RAID storage management

General & Misc.

Image enhancement
Video privacy mask
Digital zoom in, zoom out
Log viewer, log export mechanism
System lockup
Client auto login
Automatic storage recycling
Client-server architecture
Customized authority account management
Customizable appearance of Surveon logo
Configurable video retention period
Digital watermark proofing
Support DDNS Function
Support NTP Server synchronized
Support Virtual keyboard
Provide System and VI setup Help assistance
Support Customized Event management and log mechanism

Language
Multiple Language supported on VMS and Web Client: English, French, German, Portuguese, Spanish, Simple Chinese, Traditional Chinese, Italian, Japanese, Russian, Slovak, Czech,Dutch and Polish

Hardware Requirements

VMS Server + Client
>32CH
16~32CH
<16CH
Operating System
64-bit : Windows 7 SP1 Professional/Enterprise/Ultimate
64-bit : Windows 8 Pro/Enterprise
64-bit : Windows 8.1 Pro/Enterprise
64-bit : Windows 10 Pro/Enterprise
Software
Microsoft® .Net Framework 4.0 or above
Requires Operating System and Graphic Card support for DirectX 9.0 or above
CPU
Intel Core i7 Quad-core or above
Intel Core i7 Quad-core or above
Intel Core i5 Quad-core or above
Memory
8 GB or above
4 GB or above
4 GB or above
Display
nVidia Geforce GTX660 2GB or above
HDD
OS: RAID 1
Video: RAID 6 (Min. random write throughput 60MBps)
OS: RAID 1
Video: RAID 5 (Min. random write throughput 30MBps)
JBOD
(Min. random write throughput 15MBps)
Network
1 Gbps or above
Remote Client
>32CH
16~32CH
<16CH
Operating System

64-bit : Windows 7 SP1 Professional/Enterprise/Ultimate
64-bit : Windows 8 Pro/Enterprise
64-bit : Windows 8.1 Pro/Enterprise
64-bit : Windows 10 Pro/Enterprise

Software
Microsoft® .Net Framework 4.0 or above
Requires Operating System and Graphic Card support for DirectX 9.0 or above
CPU
Intel Core i7 Quad-core or above
Intel Core i7 Quad-core or above
Intel Core i5 Quad-core or above
Memory
8 GB or above
4 GB or above
4 GB or above
Display
nVidia Geforce GTX660 2GB or above
HDD
SATA 7200 RPM, 500 GB or above
Network
1 Gbps or above
VMS Server Only (without Client)
>32CH
16~32CH
<16CH
Operating System

64-bit : Windows 7 SP1 Professional/Enterprise/Ultimate
64-bit : Windows 8 Pro/Enterprise
64-bit : Windows 8.1 Pro/Enterprise
64-bit : Windows 10 Pro/Enterprise

Software
Microsoft® .Net Framework 4.0 or above
Requires Operating System and Graphic Card support for DirectX 9.0 or above
CPU
Intel Core i3 Dual Core or above
Memory
4 GB or above
Display
On board (generic) 256MB or above
HDD
OS: RAID 1
Video: RAID 6 (Min. random write throughput 60MBps)
OS: RAID 1
Video: RAID 5 (Min. random write throughput 30MBps)
JBOD
(Min. random write throughput 15MBps)
Network
1 Gbps or above
Datasheet

Brochure
Quick Installation Guide
AE Specifications