Powerful Control Suite for Professional Projects
The Surveon Control Center (SCC) is a powerful add-on suite based on the Surveon VMS, providing superior features including interactive video walls, matrix screen displays, centralized alarm management, and high scalability for thousands of cameras and multiple clients. The SCC is an effective solution for users to take on middle to large scale, mission-critical security projects.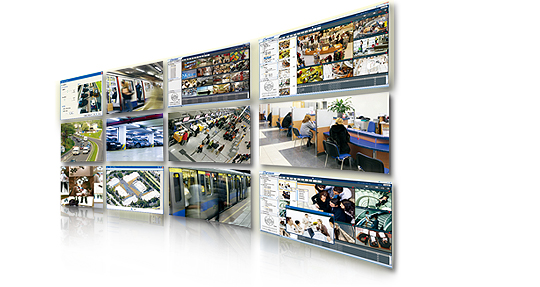 Features
Videos
Specifications
Product Matrix
Download
Advanced Matrix Wall Management, a Scalable Cost-effective Solution
The Surveon Control Center (SCC) is a powerful add-on suite for advanced security projects with multiple clients, hundreds of cameras, interactive video walls, and matrix screen displays. Control of additional monitors is as easy as connecting additional units to the network, providing a scalable, cost-effective management solution. Cameras can be added locally or remotely by simply dragging and dropping cameras into the monitor views. And the monitor wall can be set up with any combination of camera window views.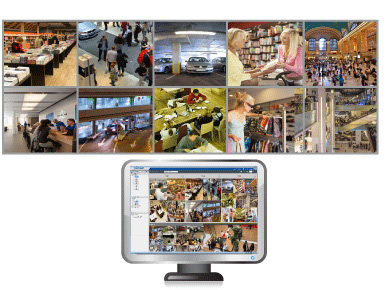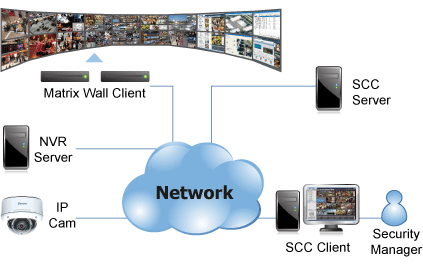 Client-Server Architecture Increases Productivity and Ensures an Effortless Deployment
The SCC is designed to improve flexibility, scalability, and interoperability. With the unifying SCC solution, unlimited number of cameras, users, NVRs, and monitors are supported in one domain architecture, providing SIs with an easy deployment. Whether SIs need to add cameras, clients or increase storage, all can be done with the easy-to-adapt SCC program.
Central Alarm Management Simplifies Monitoring and Speeds up the Responding Time
By a single login to access multiple NVRs, the SCC server provides comprehensive data from different NVRs, hardware, I/O devices, VI and critical system status in one platform at any remote location. No need to log in subsystems individually for more information; every triggered event pop-ups in the real-time logs and sends out notifications, and the data mining applications can be used for future investigations, empowering users to identify the situation accurately and react quickly.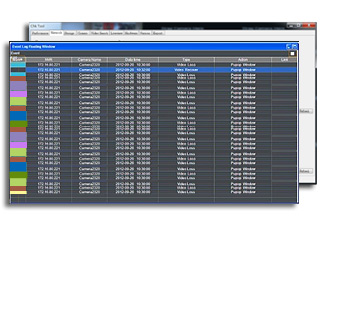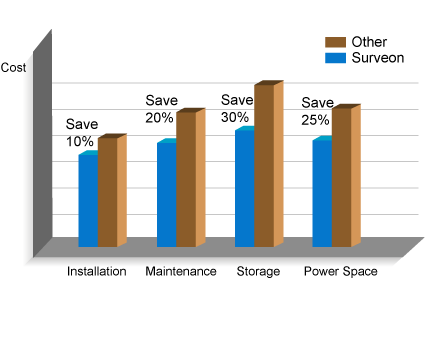 Clustered Video Storage and Advanced Data Protection Exceed Expectations
Different from the commercial off-the shelf (COTS) server+VMS solutions, Surveon deploys an advanced clustered storage technology. The cloud based and RAID architected subsystem ensures the maximum reliability, offers unlimited scalability, saves the overestimation costs for more than 30%, and protects against any disk drive failures. Featured with data protections such as thin provisioning, snapshot, volume copy, volume mirror, sync and async remote replication to ensure data integrity, the clustered storage has been proven to deliver better performance for middle to large-scale security projects.
Centralized Management Improves Efficiency and Effectiveness
A single login at any remote location grants you with full controls over security surveillance, including configurations of connected servers, cameras, subsystems, I/O devices and many more according to different levels of user privileges. This feature guarantees the surveillance quality, improve efficiency, and increase the effectiveness of surveillance management.
Surveon Control Center Specifications
General &
Miscellaneous

Unlimited NVR Hosts & IP Device Supported
Live NVR Status & NVR Storage Info
Auto Login & Auto Connection Lost Recovery

Live View
(Live Monitoring)

Unlimited Live View Channels
Video Intelligence Supported
Real-Time Audio Monitoring
HTML and Image Overlays


Multiple Displays

Unlimited View Monitors Displays
Direct Display to Secondary Monitors
Supports Live View, Playback and eMap Functions
Centralized Matrix Wall Management


E-Map

Unlimited E-Map Hosts
Hierarchical Map Structure
Multiple Maps Supported
Real Time Event Alert
4 E-Map Live Video

Playback
(Investigation)

4 Channels Playback
Instant Playback Supported
Search by Date, Time, Camera, Event Type, VI Event Combinations
Post Search via VI Analyzer
Quick Search via Timeline Navigation Bar

Event Log

Multiple Event Log (NVR Login/Logout, NVR Start/Stop, Monitor Start/Stop, Schedule Start/Stop, Disk Full, Disk Error, System Recycle, Keep Day Notification, System Abnormal, Network Abnormal, Camera Connection Lost, I/O Connection Lost, Digital Input Trigger, Video Intelligence, Video Lost, IP Change Detection, POS Abnormal Transaction)
Event Notification Setting
Notification of SMS & Email Alerts
Notification of Output Alerts
Alarm Event Priority Define
Event Log Filter (Search by Date, Time, Log Type)
Log File Export

PTZ Control

Control of Joystick
Remote PTZ Control

Digital I/O Manager

Centralized I/O Management
On Screen Virtual I/O Buttom

Hardware Requirements

SCC Server Only (without Client)
Channels
<=20
Unlimited
Operating System
64-bit : Windows 7 SP1 Professional/Enterprise/Ultimate
64-bit : Windows 8 Pro/Enterprise
64-bit : Windows 8.1 Pro/Enterprise
64-bit : Windows 10 Pro/Enterprise
Software
Microsoft® .Net Framework 4.0 or above
Requires Operating System and Graphic Card support for DirectX 9.0 or above
CPU
Intel Core i3 Dual Core or above
Intel Core i5 Quad-core or above
RAM
4 GB or above
Display Card
nVidia GeForce GT610 1GB or above
Hard Drive
SATA 7200 RPM, 500 GB or above
Network Interface
1Gbps or above
SCC Client(+Matrix Wall Client)
Channels
<=20
Unlimited
Operating System
64-bit : Windows 7 SP1 Professional/Enterprise/Ultimate
64-bit : Windows 8 Pro/Enterprise
64-bit : Windows 8.1 Pro/Enterprise
64-bit : Windows 10 Pro/Enterprise
Software
Microsoft® .Net Framework 4.0 or above
Requires Operating System and Graphic Card support for DirectX 9.0 or above
CPU
Intel Core i7 Quad-core or above
RAM
8 GB or above
Display Card
nVidia GeForce GTX 660 2GB or above
Hard Drive
SATA 7200 RPM, 500 GB or above
Network Interface
1Gbps or above
Feature Matrix
VMS Professional

VMS Enterprise

System
Supported Operating Systems
64-bit : Windows 7 Professional, Enterprise, Ultimate
64-bit : Windows 7 Professional, Enterprise, Ultimate
64-bit : Windows 7 Professional, Enterprise, Ultimate
Supported Web Browsers
Internet Explorer
Internet Explorer
Internet Explorer
Supported Mobile Client
Android, iOS
Android, iOS
Android, iOS
Free Client Software
v
v
v
Max Cameras per Server
32
(Surveon Camera Only)
64
Unlimited
Max Server Connections per Client
1
1 or Multi
Unlimited
Number of Concurrent Connections
180
180
Unlimited
System Management
Device Auto Scan (Smart Search)
v
v
v
Device Overview
v
v
v
Support DDNS Function
v
v
v
Support NTP Server
v
v
v
IP Address Filtering
v
v
v
System Diagnostics
v
v
v
Server Health Monitoring
v
v
v
Central Health Monitoring
-
-
v
Client Joystick Configuration
v
v
v
Support Ethernet I/O device
v
v
v
Digital I/O Management
v
v
v
Central I/O Management
-
-
v
Central Device Configurations
-
-
v
Central License Management
-
-
v
Live Monitoring
PTZ Control
v
v
v
PTZ Tours and Presets
v
v
v
On Screen PTZ Control
v
v
v
Digital Zoom Control
v
v
v
Text Overlay
v
v
v
Privacy Masking
v
v
v
Megapixel/HD Video Support
v
v
v
Video Aspect Ratio
v
v
v
HTML and Image Overlays
v
v
v
Multiple Views Divisions
v
v
v
Carousel/Sequence
v
v
v
Video Clip Bookmarking
v
v
v
Event Notifications
v
v
v
Multiple Layer E-Maps
v
v
v
Picture in Picture Display
v
v
v
Fish-Eye Support (Live and Playback)
v
v
v
Floating Windows
v
v
v
Multiple Monitors Support
v
v
v
Virtual Matrix
-
v
v
Video Wall Management
-
-
v
On Screen Virtual Automation Button
-
-
v
Search, Playback, Backup and Export
Instant Playback
v
v
v
Multiple Camera Playback
v
v
v
Synchronized Playback
v
v
v
Frame-by-Frame
v
v
v
Simultaneous Video Export
v
v
v
Multiple Camera Backup & Export
v
v
v
DVD Backup & Export
v
v
v
Customizable Bookmark
v
v
v
Graphical Timeline Search
v
v
v
Alarm Event Search
v
v
v
Thumbnail Search
v
v
v
VI Analyzer Search
-
v
v
Storage & Recording
Support Multi-Streaming
v
v
-
Digital Watermark Proofing
v
v
-
Pre-Post Alarm Recording
v
v
-
Synchronized Audio Recording
v
v
-
Video Retention Time
v
v
-
Automatic Storage Recycling
v
v
-
Recording on Schedule
v
v
-
Recording on Motion
v
v
-
Recording on VI Alarm
-
v
-
Network Storage Support
-
v
-
SAS/iSCSI Storage Support
-
v
-
Alarm Management
Alarm Panel Index
v
v
v
Alarms/PTZ Management
v
v
v
Alarms/Outputs Management
v
v
v
Email/SMS Notification on Alarm
v
v
v
Live View Popup on Alarm
-
-
v
Advanced VI Alarm
-
v
v
Account Management
Default Account Profiles
v
v
v
Customized Authority Account Management
v
v
v
Central Account Management
-
v
v
Integrations
API/SDK
v
v
v
Third Party Cameras Support
-
v
v
POS Overlay Integration
-
Coming Soon
Coming Soon
Access Control Integration
-
Coming Soon
Coming Soon
License Plate Recognition (LPR) Integration
-
Coming Soon
Coming Soon
Datasheet

Brochure
Quick Installation Guide
AE Specifications