Enterprise- and high-level megapixel solutions are usually essential for those highly commercial and sensitive applications generally used in a wider and more open area that require scalability and long video retention period.
Surveon's full end-to-end integration, including IP camera, hardware RAID NVR, enterprise VMS and storage that supports up to 300TB, helps to manage projects in a most efficient way and brings the lowest risk.
Challenges
Open Field and Wide Monitoring Area
The widely distributed network areas, scalable architecture and maintenance issues are the challenges the project manager first faces.
Recorded Video Data Retention
The data retention of recorded videos and the scalable, end-to-end, and robust support for hundreds of megapixel cameras for the whole system structure are particularly important to the planning and acceptance of the governmental public utilities.
Integration with Hundreds of Channels on Camera, NVR and Video Storage
The extremely complicated integration and verification tasks, among all, not only consume many invisible resources, but also contain other potential risks of integration.
Table 1: The I/O and Storage Performance for 32 Cameras
| Type | Resolution | I/O (Mbps) | Storage 14 Days | Storage 30 Days |
| --- | --- | --- | --- | --- |
| CIF | 320x240 | 0.5 | 2.4 TB | 5.2 TB |
| D1 | 720x480 | 1.5 | 7.3 TB | 15.5 TB |
| 1.3 Megapixel | 1280x960 | 4 | 19.4 TB | 41.5 TB |
| 2 Megapixel | 1920x1080 | 6 | 29 TB | 62.2 TB |
Solutions

Surveon clustered video surveillance solutions contain IP cameras built from industrial grade components, RAID NVR offering up to 48 channels of megapixel recording for 120 days of video content storage, and enterprise central management software that is built with client-server architecture and adopts central management style, which is also easily scalable.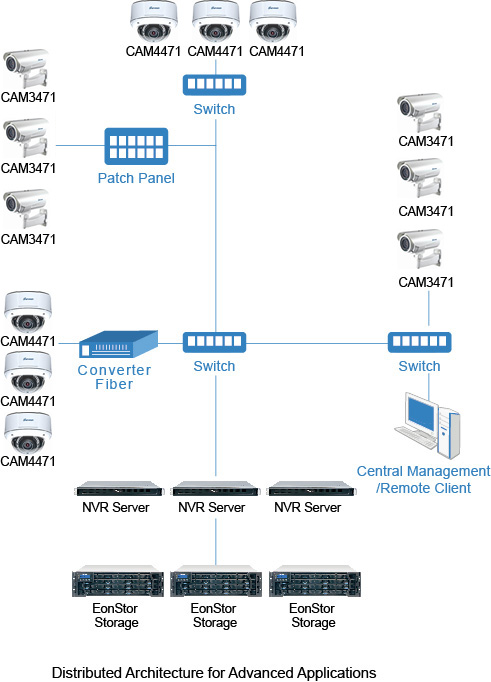 Benefits
True Megapixel Quality
Surveon's 3 megapixel IP cameras are equipped with Sony Exmor Sensors that provide 10 times clearer images than conventional analogue cameras, offering sufficient reliability for long-term operations.

Less Maintenance Effort and Management Cost
Surveon uses industrial-grade components instead of conventional consumer-based parts and deploys the three-party certified IP66, vandal proof and in-house high quality control production process. These have made a great improvement on product quality and indeed saved massive management costs.

End to End Solution
Surveon provides various product packages, ranging from different camera segments to resolutions and all kinds of NVR and storage systems. All of them are based on the same VMS framework, allowing partners to keep the investment on existing projects for expansions.

Central Management and Scalable Architecture
Surveon's enterprise Central Management Software is highly scalable to suit a variety of video surveillance systems. The software supports hundreds of channels in a hierarchical system architecture and offers rich services including camera control, live monitoring, recording, configurable playback, remote viewing, and alarm handling. With its client-server architecture and easy scalability, centralized management and consolidated control of video surveillance are easily achieved.