Highlight
VMS Feature
SCC Feature
Surveon Video Management Solution Overview
Surveon's Video Management Software, which is pre-installed on every Surveon NVR, is the foundational piece of our end-to-end IP video solutions, liking Surveon's full line of IP cameras andmajor 3rd party cameras with our megapixel video recording and management technology to deliver highly integrated and reliable solutions.Surveon VMS provides users intuitive and powerful monitoring and investigative tools to increase security coverage and responsiveness, providing an active security solution as well as increased security management eciency. Our distributed client-server architecture is scalable for projects ranging from single store, simple site applications to multi-site network video management and centralized, clustered solutions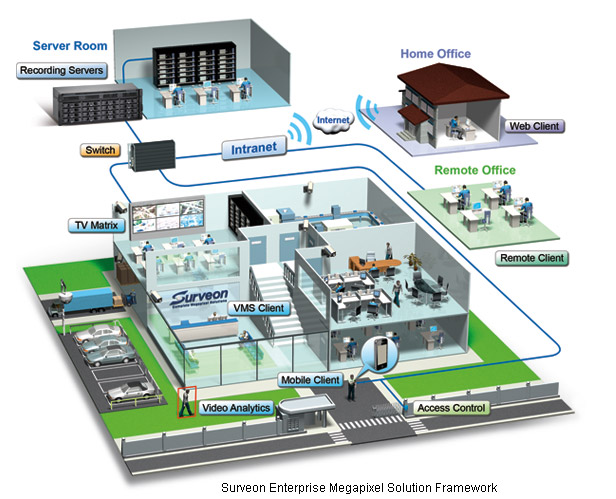 , empowering our partners by providing them with solutions that will grow with their future deployment needs.
Megapixel cameras have provided the industry with dramatic improvements in video resolution, however they have also brought major challenges to VMS provider, with their increased demand for I/O throughput and storage. Leveraging more than a decade of experience in the field of high-performance storage, Surveon VMS has been optimized to deal with these high data loads, minimizing the risk of frame loss, hardware failure, system shut down and providing security integrators with a simple update path to megapixel video solutions.


Surveon Megapixel Video Solutions include the Surveon Video Management Software (VMS) and the Surveon Control Center (SCC). The video management solutions empower our users to easily take on the professional security projects with the Surveon VMS, and be expandable with the SCC to meet the high-end security requirements.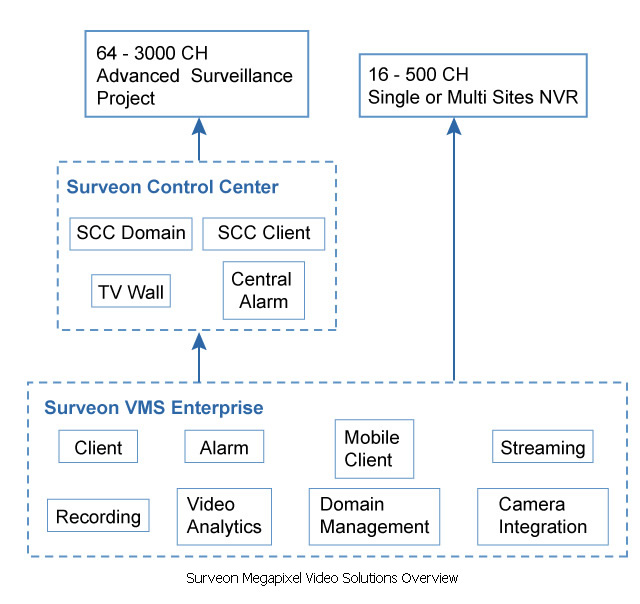 Scalable Client - Server Architecture
Whether your project is single site building security or a multi-site large-scale area surveillance, our scalable client-server architecture allows Surveon VMS to excel in both simple standalone models and distributed multi-server, multiple-site situations.

All-in-one (16 – 64 Channels) - Surveon VMS



Multiple Sites (32 – 300+ Channels) - Surveon VMS



Multiple Sites (with TV Matrix) - Surveon VMS + Surveon SCC


Multiple Client Access
Surveon VMS supports multiple client access for easy monitoring anytime, anywhere, including the full-functioned VMS client, web client, remote client, and mobile client.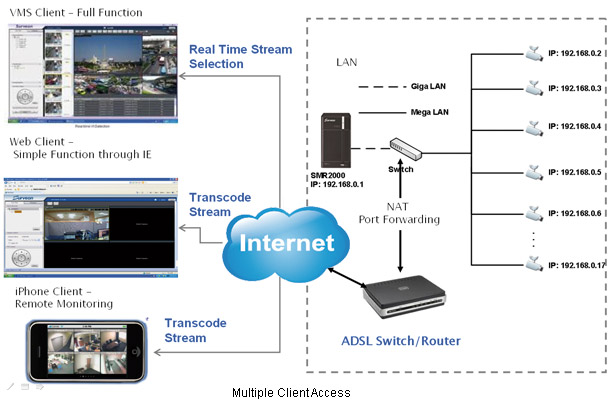 Centralized Domain Management
Surveon VMS supports unlimited numbers of cameras, I/O devices, SMR/NVR/VMS servers and users, allowing multiple clients to manage multiple servers performing monitoring, recording, and playback over different servers.

Real Time Video Analytics Solutions
The Surveon Video Intelligence Server provides comprehensive video analytics suite for real-time detection & alerts. Incorporating major VI features suitable for many common applications-- including missing object, foreign object, basic intrusion, forbidden area, tampering and general motion detection-- it turns traditional surveillance networks into an effective detection and monitoring solutions. The Surveon Video Intelligence Server is integrated in VMS 2.4, and can be installed directly on NVRs for single site applications, or deployed on independent servers for large-scale applications.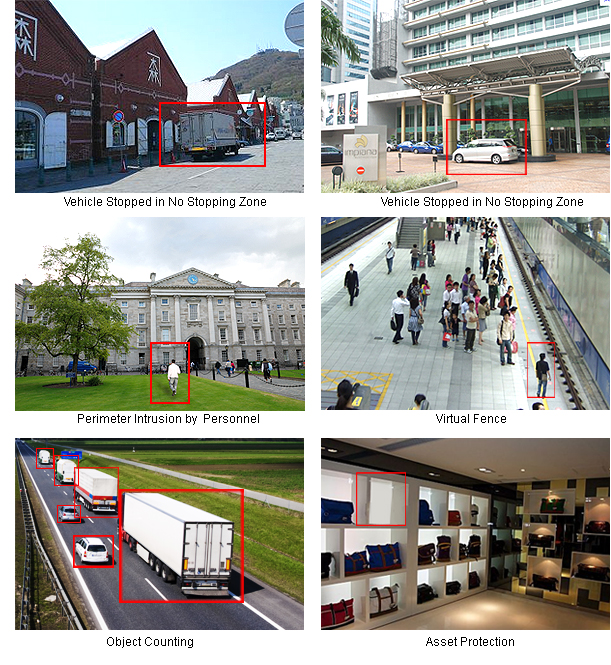 Actionable Video Monitoring
Surveon VMS provides actionable management tools for monitoring and investigation. All real-time detection events can be configured with thumb-nailed pop-ups in the video alarm panel. These pop-ups provide operators with an instant playback option and can be labeled and archived for further investigation.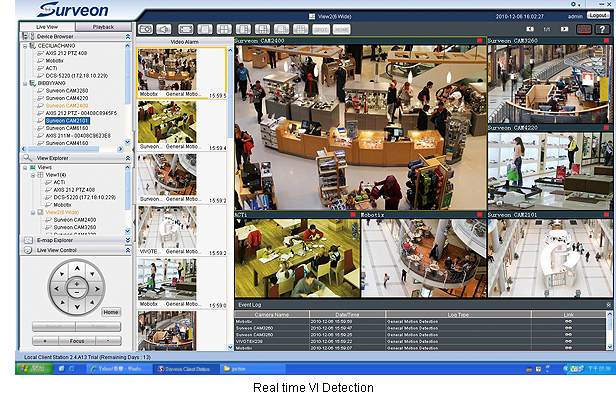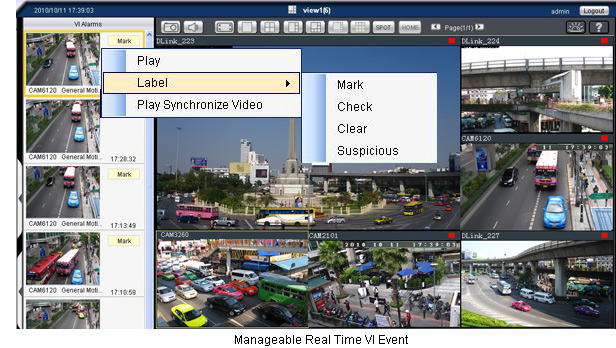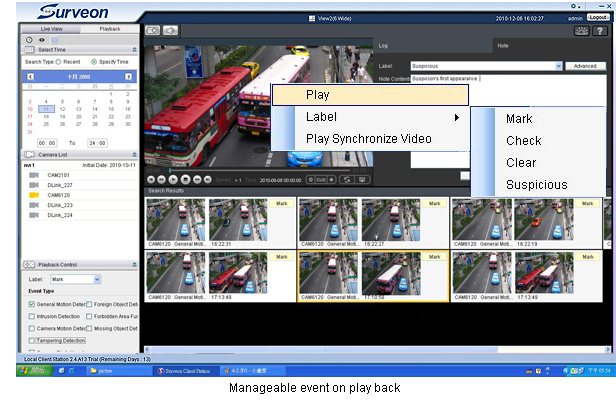 Powerful Investigation Modes
Live Monitoring and Investigation are the two main features for any surveillance application. In addition to the standard date-time search and instant playback, Surveon VMS also supports multi-event and video intelligent searches. VI searches apply video analytics to previously recorded events, while multi-event searches perform high-level database queries across multiple cameras based on labels, video analytics, events, or notes. Search results can be further labeled and categorized to provide more comprehensive data categorization. These powerful search modes increase investigative effectiveness and efficiency.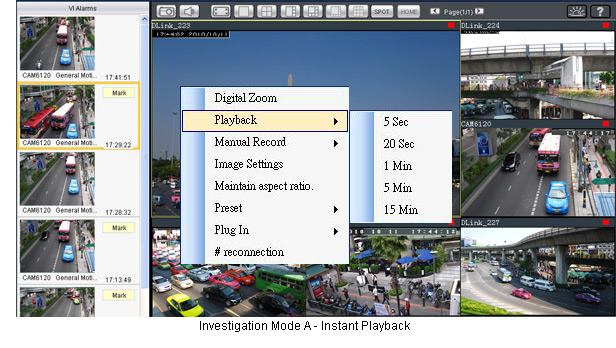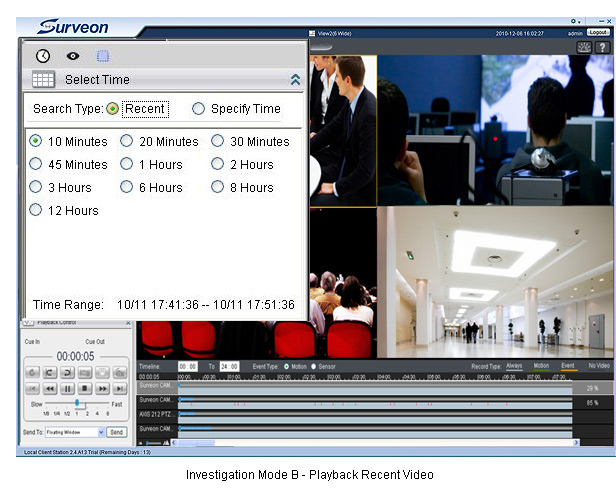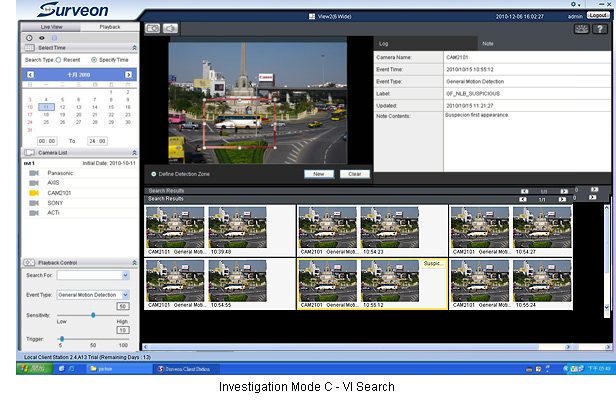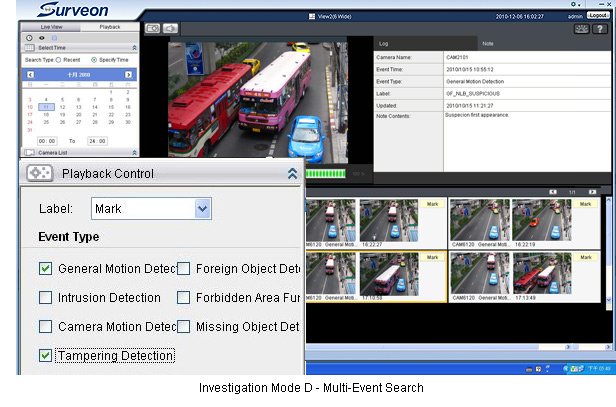 Multiple Display Options
Multiple-display support is commonly required for projects like SMBs, parking, factory surveillance, and other medium to large scale applications. Users may require dedicated displays for multiple live view video feeds, eMAPs, investigation, and even integrated 3rd party solutions, i.e. access control. Surveon VMS supports up to 8 monitors which can be easily configured to display combinations of video view, eMAP, investigation or HTML content to meet your requirements.
Suveon VMS is designed to provide line security manager with comprehensive monitoring tools and management solutions that emphasize ease-of-use. It provides innovative features for an effective and efficient investigations, all based on Surveon's megapixel video recording technology and experience, and designed to provide our customers high-performance and reliable megapixel IP video solutions.For more information and detailed specifications, please see the specifications detail or contact your Surveon Sales Representative.

Live View

Real-time network camera discovery
Versatile views of various screen divisions
HTML and image overlays
Multiple views supported
View patrolling for single or multiple views
Real time video/event alarm display
Instant playback
Video clip bookmarking
Support 3 installation modes and 5 different fisheye Dewarp display modes
Support PAP(picture in picture) Display
Support 2 way audio


eMAP

Drag-n-drop camera manipulation
Directional camera display
Hierarchical map structure
Real time event alert
Instant live video of camera
Multiple layer maps supported


PTZ

Pan, tilt, zoom operations (dependent of camera)
Built-in, floating PTZ control panel
Preset position (dependent of camera)
Scheduled or continuous camera patrolling
Event-driven camera patrolling
Support on Screen PTZ with 8 directional virtual control pad
Support CH Products USB joystick


I/O

Digital I/O management
Support Ethernet I/O device

Multiple Displays

Up to 8 monitors
Supports live view, playback, eMap functions
Direct display to secondary monitor(s)

Investigation

Search by date, time, camera
Search by pre-defined recent time
Search by VI event combinations
Search over multiple days
Search over multiple cameras
Frame by frame / Key frame modes playback
Video clip bookmarking and commenting
Different color display on recorded data date
Search via built-in VI analyzer
Customizable bookmark
Intuitive, video thumbnail search results
Cue-in, cue-out and repeat
Quick playback by video thumbnail
1/8, 1/4, 1/2, 1x, 2x, 4x, 8x play, pause, stop
AVI-formatted video clip export
4-channel synchronized playback
5 different time interval scroll bar drag and drop playback
Support full screen playback mode
Support 3 installation modes and 5 different Fisheye Dewarp playback display modes

Instant Playback

Supported in video alarm, event alarm, view functions
Pre-defined playback durations
Video clip bookmarking

Video Intelligence

General motion detection
Camera motion detection
Missing object detection
Foreign object detection
Intrusion detection
Forbidden area detection
Tampering detection
Virtual fence
Object counting
Tailgating detection
Go Out detection

Recording Policy

Supports up to 96 channels megapixel recording
Continuous recording
Manual recording
Event-driven recording along with rules
Scheduled recording on daily or weekday basis
Post alarm recording 5-45 minutes
Pre-alarm recording 5-45 minutes


Rule Manager

Conditional recording/alert/notification
Email, FTP, SMS, phone,popup window, PTZ,VI Panel,Relay output notifications
Sound, alarm, round-the-clock alerts


Remote Management
Full functional operation & management via VMS Client

Remote Client

Web Client
iPhone client
Android Client

3rd Party IPCAM
ACTi、Arecont Vision、Asoni、AVTECH、AXIS、Bosch、Brickcom、Dahua、D-Link、Dynacolor、EDIMAX、EverFocus、Hikvision、IQinvision、Lilin、Messoa、Mobotix、Panasonic、Samsung、Shany、SIMON、SONY、Sunell、Vivotek
Storage Expansion

Supports Infortrend RAID storage
Built-in RAID storage management

General & Misc.

Image enhancement
Video privacy mask
Digital zoom in, zoom out
Log viewer, log export mechanism
System lockup
Client auto login
Automatic storage recycling
Client-server architecture
Customized authority account management
Customizable appearance of Surveon logo
Configurable video retention period
Digital watermark proofing
Support DDNS Function
Support NTP Server synchronized
Support Virtual keyboard
Provide System and VI setup Help assistance
Support Customized Event management and log mechanism

Language
Multiple Language supported on VMS and Web Client: English, French, German, Portuguese, Spanish, Simple Chinese, Traditional Chinese, Italian, Japanese, Russian, Slovak, Czech,Dutch and Polish
Hardware Requirements
VMS Server + Client
>32CH
16~32CH
<16CH
OS

64-bit :
Windows 7 Home Basic, Home Premium, Professional, Enterprise,
Ultimate

CPU
Intel Core i7-980X
or above
Intel Core i7-860
or above
Intel Core i5-650
or above
Memory
4 GB or above
Display
nVidia Geforce GTX660 2GB or above
HDD
SATA 7200 RPM, 500 GB or above
Network
1 Gbps or above
Remote Client
>32CH
16~32CH
<16CH
OS

64-bit :
Windows 7 Home Basic, Home Premium, Professional, Enterprise,
Ultimate

CPU
Intel Core i7-980X
or above
Intel Core i7-860
or above
Intel Core i5-650
or above
Memory
4 GB or above
Display
nVidia Geforce GTX660 2GB or above
HDD
SATA 7200 RPM, 500 GB or above
Network
1 Gbps or above
VMS Server Only
>32CH
16~32CH
<16CH
OS

64-bit :
Windows 7 Home Basic, Home Premium, Professional, Enterprise,
Ultimate

CPU
Intel Core i3-530 or above
Memory
4 GB or above
Display
On board (generic) 256MB or above
HDD
SATA 7200 RPM, 500 GB or above
Network
1 Gbps or above
General &
Miscellaneous

Unlimited NVR Hosts & IP Device Supported
Live NVR Status & NVR Storage Info
Auto Login & Auto Connection Lost Recovery

Live View
(Live Monitoring)

Unlimited Live View Channels
Video Intelligence Supported
Real-Time Audio Monitoring
HTML and Image Overlays


Multiple Displays

Unlimited View Monitors Displays
Direct Display to Secondary Monitors
Supports Live View, Playback and eMap Functions
Centralized Matrix Wall Management


E-Map

Unlimited E-Map Hosts
Hierarchical Map Structure
Multiple Maps Supported
Real Time Event Alert
4 E-Map Live Video

Playback
(Investigation)

4 Channels Playback
Instant Playback Supported
Search by Date, Time, Camera, Event Type, VI Event Combinations
Post Search via VI Analyzer
Quick Search via Timeline Navigation Bar

Event Log

Multiple Event Log (NVR Login/Logout, NVRStart/Stop, Monitor Start/Stop, Schedule Start/Stop, Disk Full, Disk Error, System Recycle, Keep Day Notification, System Abnormal, Network Abnormal, Camera Connection Lost, I/O Connection Lost, Digital Input Trigger, Video Intelligence, Video Lost, IP Change Detection, POSAbnormal Transaction)
Event Notification Setting
Notification of SMS & Email Alerts
Notification of Output Alerts
Alarm Event Priority Define
Event Log Filter (Search by Date, Time, Log Type)
Log File Export

PTZ Control

Control of Joystick
Remote PTZ Control

Digital I/O Manager

Centralized I/O Management
On Screen Virtual I/O Buttom
Hardware Requirements
SCC Server
<=20
Unlimited
Operating System

64-bit :
Windows 7 Ultimate / - Enterprise / - Professional /
- Home Premium / -Home Basic

CPU
Intel Core i3 3.3GHz or above
Intel Core i7 3.4GHz or above
RAM
4 GB or above
Display Card
nVidia GeForce GT610 1GB or above
Hard Drive
SATA 7200 RPM, 500 GB or above
Network Interface
1Gbps or above
SCC Client(+Matrix Wall Client)
<=20
Unlimited
Operating System

64-bit :
Windows 7 Ultimate / - Enterprise / - Professional /
- Home Premium / -Home Basic

CPU
Intel Core i7 3.4GHz or above
RAM
4 GB or above
Display Card
nVidia GeForce GTX 660 2GB or above
Hard Drive
SATA 7200 RPM, 500 GB or above
Network Interface
1Gbps or above