| | |
| --- | --- |
| | The visual clarity of megapixel cameras brings explicit benefits for video surveillance. For borders and ports, this advantage is extremely important for enhancing operation efficiency and overall service satisfaction. Using Surveon's complete megapixel solutions, security integrators can provide reliability and stability to customers, and at the same time, minimize man power costs while increasing efficiency. |
Challenges
Broad and Uncovered Space
Wide roads, open space, and buildings - all of the areas must be carefully monitored.
High Costs on Security
Every government spends a lot of resource on man power for border and port surveillance and thus need to adopt a more efficient method using the advanced megapixel surveillance.
Integration with Hundreds of Channels on Cameras, NVR and Video Storage
The extremely complicated integration and verification tasks not only consume many invisible resources, but also contain other potential risks of integration.

Table 1: The I/O and Storage Performance for 32 Cameras
| Type | Resolution | I/O (Mbps) | Storage 14 Days | Storage 28 Days |
| --- | --- | --- | --- | --- |
| CIF | 320x240 | 0.5 | 2.4 TB | 5.2 TB |
| D1 | 720x480 | 1.5 | 7.3 TB | 15.5 TB |
| 1.3 Megapixel | 1280x960 | 4 | 19.4 TB | 41.5 TB |
| 2 Megapixel | 1920x1080 | 6 | 29 TB | 62.2 TB |
| 3 Megapixel | 2048x1536 | 6 | 29 TB | 62.2 TB |
Solutions

Surveon's megapixel solutions, which contain a full line of IP cameras, hardware RAID NVR, IP video storage and enterprise centralized management software, are the ideal choice for border and port surveillance projects. Network video recording is handled by Surveon's enterprise grade NVR series, which offers up to 64-channel megapixel recording and 120 days of video content storage. Surveon's iSCSI-based RAID NVR provides scalable architecture which brings lower maintenance effort, fewer required hard disks and lower cost.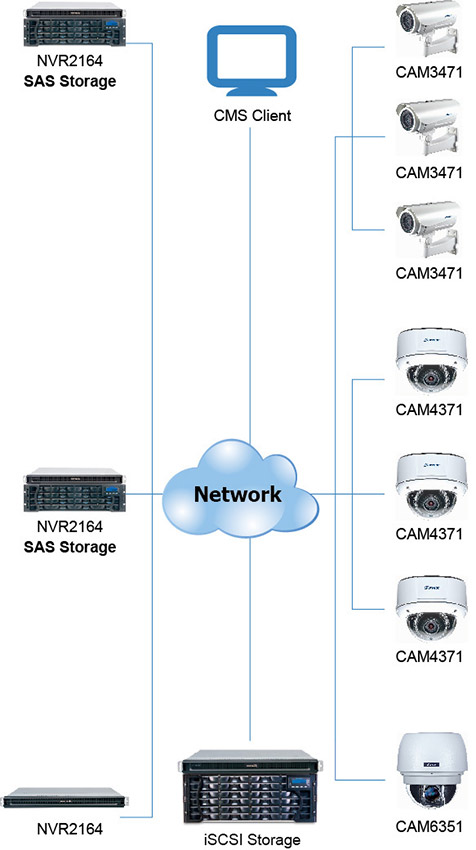 Benefits
True Megapixel Quality
Ranging from 2, 3 to 5 megapixel, Surveon's IP cameras are equipped with Sony Exmor Sensors that provide 10 times clearer images than conventional analogue cameras, offering sufficient reliability for long-term operations.
Less Maintenance Effort and Management Cost
Surveon's cameras are designed and manufactured in house with industrial-grade components to ensure low maintenance costs and low failure rates for the 24/7 operation. These investments will then be returned to the control management of manufacturers' product quality and total cost of ownership.
End to End Solutions
Surveon provides various product packages, ranging from different camera segments to resolutions and all kinds of NVR and storage systems. All of them are based on the same VMS framework, which allows partners to keep the investment on existing projects for expansions.