Surveon Maintains a Safer Environment for Passengers with Reliable Transportation Solutions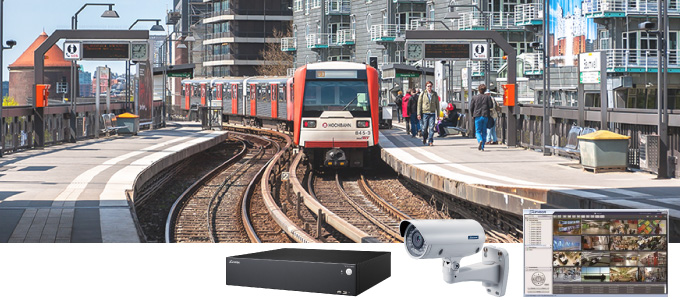 New Taipei City, Taiwan, April 12, 2017 Being in the generation of global village, people usually travel between cities and countries, and the security of transportation has become one of the main issues to deal with under certain circumstances. Transportation needs to provide a safe and secure environment and stay one step ahead of vandalism to protect passengers from potential threats. The challenges of transferring and managing mass amounts of information from vehicles or stations to the operations control center often entail strenuous effort for system integrators. To help integrators work on the system, Surveon offers reliable transportation solutions, including compact cameras and enterprise VMS with video analytics, ensuring proper actions can be taken in time to secure the safety of passengers.
Transportation projects require the solutions to provide sufficient reliability for long-term operations. Besides, the cameras have to support shock proof and provide clear images, regardless of different kinds of lighting environments for applications. Surveon compact series camera provides excellent megapixel image quality with low light performance and WDR, and allows users to adjust the shooting angle with equipped 2-axis, protecting passengers and vehicles from any threats. Among Surveon camera selection, 2MP compact dome CAM1320S2 with built-in MIC and 2-axis support, 2MP compact bullet camera CAM3361LV with SONY Exmor sensor and vari-focal lens could be the options in such applications.
As the operation control center needs to access information from different vehicles such as bus and train, the solutions of transportation require advanced centralized management to ensure smooth operation. Surveon enterprise VMS with smart search and playback enables the operation control center to search and export large quantities of recorded video to deal with critical situations in a very short time. Besides, the real-time video analytics like Virtual Fence can be used as an active alarm, ensuring rapid action can be taken to protect passengers from potential accidents, such as crossing over the waiting line. In addition, Surveon Control Center (SCC) supports hundreds of channels in an hierarchical system architecture, offering rich services including camera control, live monitoring, recording, and alarm handling to keep every detail under control. Its remote viewing allows security guards to manage surveillance anywhere, preventing suspicious person or potential threats to safeguard the passengers on public transportation.
Surveon is dedicated to offering a variety of end-to-end video surveillance solutions catering to different vertical applications, giving partners reliable options for their projects. For more reference about the transportation and other vertical solutions, please visit www.surveon.com.
About Surveon Technology Inc.
Surveon Technology offers end-to-end network video surveillance solutions that showcase our expertise in professional camera design, RAID NVR, high-availability video storage, embedded firmware and video management software. All Surveon products are designed in-house and manufactured on our ISO 9001 and ISO 14001 certified production site to ensure the highest quality for our partners. For more information and reference about Surveon vertical solutions, please visit www.surveon.com
Media Contact
Nidya Yu
E-Mail: nidya.yu@surveon.com
Inquiry Contact
Surveon Technology, Inc.
E-Mail: sales@surveon.com