Surveon Guards the Community with Comprehensive Residential Solutions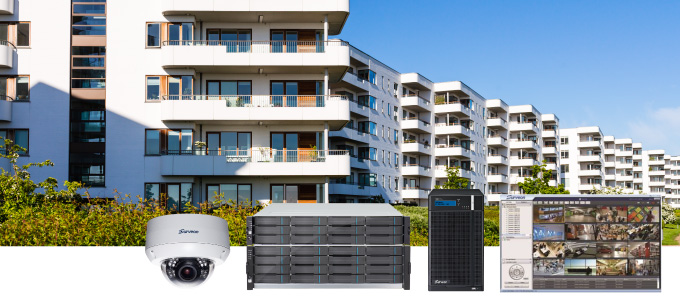 New Taipei City, Taiwan, March 7, 2017 Instead of independent house, more and more people choose to live in a residential community nowadays so as to enjoy higher living quality while taking advantage of cost-sharing. As a result, the security in such community becomes critical for the residents. Surveon provides professional surveillance solution for residential application, including high-resolution cameras, enterprise hardware RAID NVR as well as enterprise VMS with active VI detection, which has a pre-configured base for a number of scenarios, ensuring rapid and accurate action to protect family and assets from potential threats.
Public areas such as outdoor parking lot and lobby are strictly required to keep alert on every suspicious person and potential threats like burglary, arson or fierce quarrels to ensure the residents live in a truly safe environment. To overcome complex outdoor lighting conditions and environments, Surveon provides cameras that have advanced functions in low light performance and are equipped with 3-axis, allowing users to adjust the shooting angle according to different installation places. Among Surveon camera selection, 2MP bullet cameras CAM3351R4 and CAM3371EM with Sony Exmor sensor plus 2MP outdoor dome camera CAM4361LV with 3-axis support could be the options in this application.
For security staff in such residential community, it would be of great efficiency in surveillance task if the monitoring system keeps consistency with the access system of gateway or entrance. Being fully compatible with major 3rd party access control systems, Surveon offers a smooth integration solution for SI to meet the requirements for residents' easy access while security is still under restrict control. Moreover, to resolve the common issue for limited security guards in residential buildings, Surveon's enterprise VMS supports multiple accesses from web, remote, and mobile clients, allowing security guards to manage surveillance anywhere to prevent incidents in time. In addition, Surveon Control Center (SCC), the video central management tool, can collect data to receive events such as fire alarm with high I/O, keeping the situation under control and warning the security guards in short time.
Surveon is dedicated to offering a variety of end-to-end video surveillance solutions catering to different vertical applications, giving partners reliable options for their projects. For more reference about the residential or other vertical solutions, please visit www.surveon.com

About Surveon Technology Inc.
Surveon Technology offers end-to-end network video surveillance solutions that showcase our expertise in professional camera design, RAID NVR, high-availability video storage, embedded firmware and video management software. All Surveon products are designed in-house and manufactured on our ISO 9001 and ISO 14001 certified production site to ensure the highest quality for our partners. For more information and reference about Surveon vertical solutions, please visit www.surveon.com
Media Contact
Nidya Yu
E-Mail: nidya.yu@surveon.com
Inquiry Contact
Surveon Technology, Inc.
E-Mail: sales@surveon.com