Surveon Enhances Campus Security with Advanced Solutions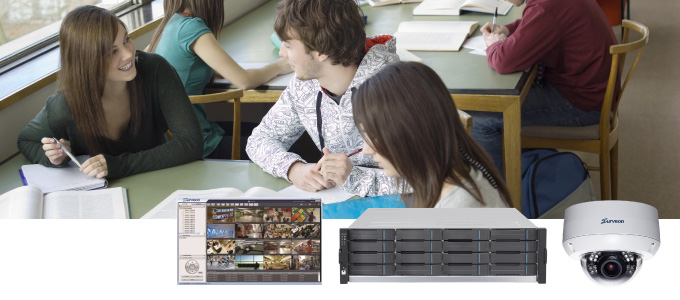 New Taipei City, Taiwan –Oct. 4, 2016.With violence, burglaries and shooting incidents appearing frequently on the headlines, safety remains a critical concern for schools. As traditional CCTV solutions were no longer able to meet the needs for long hour storage with high quality images , authorities started looking for an advanced surveillance solutions, such as megapixel quality image and alert notification system to tighten up campus security. Surveon provides education solutions with product lines including high-resolution cameras with extremely low RMA rate, NVRs with premium-grade RAID function as well as feature-rich CMS with multiple accesses from web, remote, and mobile clients, allowing security guards to manage surveillance everywhere in the school. These advanced solutions enable the school to provide students with a safe learning environment.
In order to upgrade and design a suitable system for school, system integrators might face some challenges such as wide area monitoring and the integration of access control. Under such circumstances, Surveon's 3MP cameras provide 1.5-time larger area coverage at 30 FPS and support 3-axis adjustment for flexible hardware installation, offering the best C/P value solution for monitoring wide area. Moreover, Surveon's Video Analytics Series camera can be installed for areas that might need extra attention, such as hallways or building entrances, to send the immediate alert for possible actions if any. All of Surveon cameras provide excellent image quality with smart WDR, giving users outstanding video visibility even in highly complex lighting conditions. Among Surveon camera selection, 3MP indoor dome CAM4410S2 with 3-axis support and outdoor-use CAM4471HEM, 2MP bullet camera CAM3371EM plus 3MP outdoor speed dome CAM6471EZ could be the options under such application.
On the other hand, some schools might have campuses more open than the others in terms of boundary so school authorities expect the surveillance solution to offer one easy and consistent access, making security system more efficient on campus. Surveon's products are fully compatible with major third party access control systems, providing both efficient and economical solution for education surveillance. Moreover, Surveon Control Center (CMS) can collect data to receive events such as intrusion detection and fire alarm with high I/O, warning the teachers and students across departments and make things under control. The multiple accesses from web, remote, and mobile clients allow security guards to manage surveillance from every concern of the school so that incidents such as theft and vandalism can be stopped in time.
Surveon education solutions have been successfully safeguarded the Kainan University in Taiwan. "Surveon is the best available choice for this type of project due to its 100% in-house production and 3-year warranty, " said the partner in Taiwan, "The megapixel video quality and industrial grade designs of Surveon cameras were already very attractive to us. However, we were absolutely sold on the versatility of the CMS solution. We believed this type of setup was beyond our price range before being presented with Surveon's solutions."
Surveon is dedicated to offering a variety of end-to-end video surveillance solutions catering to different vertical applications, giving partners reliable options for their projects. For more reference about the success cases and other vertical solutions, please refer to www.surveon.com

About Surveon Technology Inc.
Surveon Technology offers end-to-end network video surveillance solutions that showcase our expertise in professional camera design, RAID NVR, high-availability video storage, embedded firmware and video management software. All Surveon products are designed in-house and manufactured on our ISO 9001 and ISO 14001 certified production site to ensure the highest quality for our partners. For more information and reference about Surveon vertical solutions, please visit www.surveon.com
Media Contact
Nidya Yu
E-Mail: nidya.yu@surveon.com
Inquiry Contact
Surveon Technology, Inc.
E-Mail: sales@surveon.com