Surveon Vertical Solutions Make All Differences at IFSEC 2016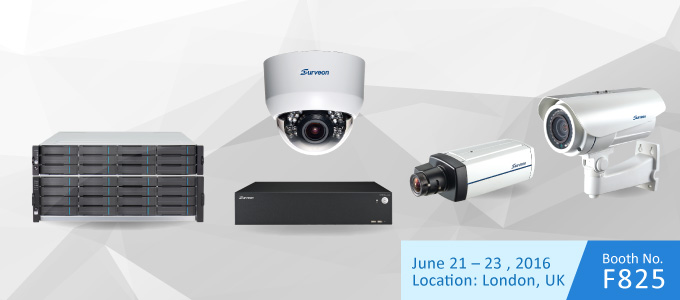 New Taipei City, Taiwan –June 15, 2016. Surveon Technology, the end-to-end IP surveillance solutions provider, will attend IFSEC from June 21st to 23th with a variety of vertical solutions covering from banking, city surveillance to retail and SMB markets. Located at booth F825, Surveon is about to demonstrate a comprehensive NVR solution specially catering to projects for mission-critical application with budget-conscious conditions.
As an expert for network video recorder, Surveon offers two types of storage server, NVR5400 Series and NVR7300 Series, with up to 316 HDDs SAS storage for 1-year video retention period. Featuring 12 or 16-bay hot-swappable HDDs and RAID1, 5, 6, 1+Spare, 5+Spare, 6+Spare data protection, NVR5400 Series supports 5MP video recording of up to 64 channels, making it a perfect C/P alternative for applications like city, education and hospital. For other mission-critical projects like airport or casino, NVR7300 Series supports up to 128 CH 5MP cameras with cableless design as well as redundant power that will effectively lower the system maintenance cost.
Moreover, to optimize NVR performance, Surveon has introduced Failover solution that allows failover NVR to be able to work normally, and meanwhile, only use failover licenses to take over recording from the failed NVR when needed. Without using spare NVR, Surveon Failover solution ensures no video loss through collaborative NVRs within the system, serving as a cost-effective option to carry out any mission-critical projects such as banking surveillance.
In addition to Surveon showcase in IP surveillance, Infortrend will also join Surveon's booth for IFSEC this year. Infortrend recently launched "EonStor GSe", a unified storage solution designed to deliver efficiency and power in a single consolidated file and block storage system. EonStor GSe family allows organizations to consolidate their storage requirements for operational databases (structured data) along with unstructured data onto a common platform with support for fully-optimized file-based and block-based storage. This not only simplifies service deployment and management of different types of data, but also lowers costs by delivering the benefits of performance-optimized SAN and NAS in a single subsystem.
Surveon invites all visitors to visit the booth at F825 and explore how Surveon's vertical solutions stand out and why choosing Surveon can make all the differences to you in the next project bidding.

About Surveon Technology Inc.
Surveon Technology offers end-to-end network video surveillance solutions that showcase our expertise in professional camera design, RAID NVR, high-availability video storage, embedded firmware and video management software. All Surveon products are designed in-house and manufactured on our ISO 9001 and ISO 14001 certified production site to ensure the highest quality for our partners. For more information about Surveon, please visit our website at www.surveon.com.
Media Contact
Nidya Yu
E-Mail: nidya.yu@surveon.com
Inquiry Contact
Surveon Technology, Inc.
E-Mail: sales@surveon.com