Megapixel Camera = Better Image Quality?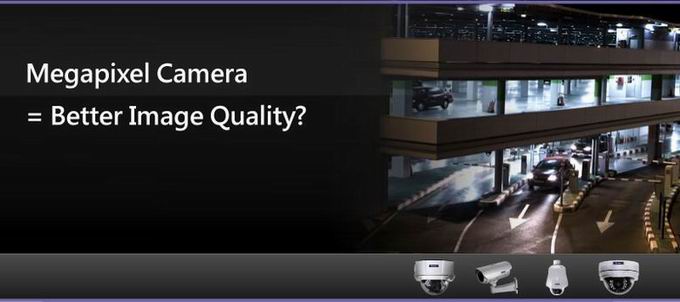 In any security project, image quality is the first concern for both integrators and customers. The advent of megapixel cameras has brought higher resolutions to surveillance, and these cameras are often marketed as providing better "quality". However any security professional should be aware that the resolution is only part of the quality equation. In addition to resolution/TV-lines, frame rate and sensitivity – particularly in low light – must be considered in an evaluation of camera image quality. For sensors of the same size, such as ones commonly used in security cameras, a D1 resolution sensor holds a significant per-pixel lighting advantage over its megapixel counterpart, enabling D1 cameras to surpass megapixel cameras in low-light performance. Megapixel cameras are also commonly limited to 15 frames per second or less, which mean that they cannot provide the "real-time" imaging that is common with D1 sensors. Using megapixel cameras in every situation does not guarantee the best image quality. Depending on the application environment, a mix of megapixel and D1 cameras can provide the best image quality for your solution.
With this in mind, Surveon is pleased to announce the addition of D1 network cameras, with outstanding low lux performance, to its full lineup of network cameras. In addition to standard box cameras, indoor and outdoor vandal domes and IP66 Bullet cameras are also available. These cameras are targeted at customers whose requirements for real-time, highly sensitive low-light image quality cannot be met by our megapixel lineup.

| | | | |
| --- | --- | --- | --- |
| | Others | Surveon D1 | Surveon Megapixel |
| Sensor | 1/3" or 1/4" | 1/3.2" | 1/3" |
| | D1 or VGA | 720x480 | 1280 x 1024 |
| | Usually Between 0.6~2 Lux | 0.2 Lux @ F1.8, 2856°K | 1 Lux @ F1.0, 2856°K |
| | 30FPS | 30 FPS | 15 – 26 FPS |
| | Predominately Interlaced | Progressive | Progressive |
| | NA | IP66 Bullet, BOX, Dome | IP66 Bullet, BOX, Dome |


About Surveon Technology Inc.
Surveon offers surveillance equipments combining advantages from professional fields including security, high-speed storage, and the latest network technologies. Our reliable and cost-effective range of products comes in a wide variety of form factors and flexible configurations. Surveon is committed to full compliance with the new the European directive, RoHS (2002/95/EC) and to support customers in their compliance efforts. All Surveon products are provided and manufactured by ISO certified manufacturers.

For further information on Surveon and its products, www.surveontech.com

Inquiry contact

Arthur Hu


Surveon Technology, Inc.
E-Mail: sales@surveontech.com