Surveon VMS 2.2 is released with enhanced GUI for monitoring, playback, and management
Taipei, Taiwan – March 5, 2010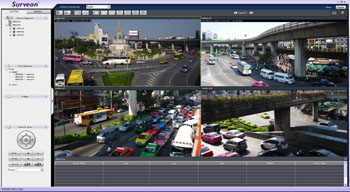 Surveon Technology, Inc., an industry leader in the design and manufacture of IP surveillance equipment, is pleased to announce the release of VMS 2.2, its improved monitoring, playback, and management application. The VMS 2.2 GUI provides enhanced usability for features such as recording schedule configuration, camera/viewer drag and drop, and PTZ control. Playback mode has also been expanded, and now allows simultaneous playback of 4 channels of recorded video to help speed security operations and investigations. In addition to these improvements, the Surveon VMS 2.2 now has a dual stream capable design for efficient monitoring and recording.
The intuitive VMS 2.2 GUI reduces the learning curve for new users, allowing them to quickly start using the software. Tasks such as managing NVR servers and camera feeds have been made faster, improving the user situational awareness and response time. Configuration for recording schedules, camera/viewer, PTZ controls, motion detection, and playback/search have all been streamlined and improved. The Surveon VMS software supports multiple display modes, including 1/4/9/16/25/33-channel and sequential display modes. Multi-viewer mode is also supported through the use of preset views. By combining available channels with different display options, individual users can have personalized displays of the available video feeds. Multiple preset views can also be configured, and are available to the user by drag and drop switching.
The VMS 2.2 software supports simultaneous playback of 4 channels of recorded video. A segment recorded from one camera can be split into 4 time frames for concurrent viewing, greatly reducing review times for event searching. In addition to this, the VMS 2.2 software also provides the ability to isolate a timeframe and view the recorded video from several cameras for specified time, allowing users to view events from different viewing angles and positions.
The VMS 2.2 software supports high performance megapixel-resolution monitoring and recording with H.264, MPEG4, M-JPEG from various network cameras. Thanks to the dual-stream design of the system, the VMS can provide the most suitable video for the job at hand. The stream used for live-view can be configured to use a lower resolution and higher compression H.264 encoding to ensure the smooth viewing of multiple video; the recorded stream can configured to use a high resolution and low compression M-JPEG encoding to provide a high level of detail when retrieving video for analysis or evidence.
For more information about this release version or download, please visits http://www.surveontech.com/product/VMS.asp
Surveon VMS is a centralized network video management solution. It includes the VMS server system and the VMS client station. This CMS-ready client server architecture provides a wide scalability for IP video surveillance applications from standalone solution to a multi-level CMS solution. The powerful surveillance features, such as, intuitive search mode, remote monitoring, control and the multiple brand network cameras support make it an ideal platform for IP video surveillance projects. Combined with Surveon's in-house design & manufacturing, NVR server provide a high reliability total solution for any 24/7 NVR applications.
Highlights
Dual Stream with H.264, MPEG4 or M-JPEG for Monitoring and Recording
Multiple Live Monitoring Modes
E-Map with Location Mapping
Simple Remote RAID Management
Intuitive User-Friendly Interface
Multi-Channel Playback
Account-associated View
About Surveon Technology Inc.

Surveon offers surveillance equipments combining advantages from professional fields including security, high-speed storage, and the latest network technologies. Our reliable and cost-effective range of products comes in a wide variety of form factors and flexible configurations. Surveon is committed to full compliance with the new the European directive, RoHS (2002/95/EC) and to support customers in their compliance efforts. All Surveon products are provided and manufactured by ISO certified manufacturers.

For further information on Surveon and its products, www.surveontech.com

Inquiry contact

Arthur Hu


Surveon Technology, Inc.
E-Mail: sales@surveontech.com