Surveon Unveils High Performance H.264 Megapixel Network Cameras with Dual Memory Card Slot and Tampering Detection
Taipei, Taiwan – Jan 15, 2010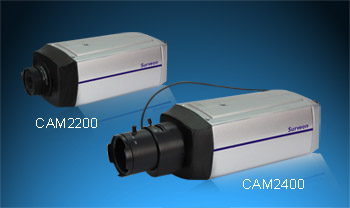 Surveon unveils two high performance megapixel network cameras with dual memory card slot and tampering detection for SMB and enterprise users. Surveon's CAM2200 and CAM2400 are truly advanced new generation network cameras, with high performance built-in megapixel CMOS and CCD sensor that provide the extreme high video quality for the most demanding surveillance applications. With SONY megapixel progressive CCD sensor and removable IR-cut filter design, the CAM2400 has a superior performance with enhanced image quality even under low-light conditions. The CAM2400 also supports DC auto iris lenses, ideal for indoor applications, such as stadiums, airports, shopping malls, and banks; the megapixel range will extend your capability to protect the building, the people, and your business.
The dual stream design enables Surveon's CAM2200 and CAM2400 to support real-time video monitoring, video recording, or mobile viewing, all of which require different resolutions and CODEC simultaneously. With H.264, MPEG4 and MJPEG compatibility, video streams can also be transmitted in either of these formats for versatile applications.
To avoid any unexpected recorded video loss due to connection failures, CAM2200 and CAM2400 come equipped with dual microSD memory card slots as a backup storage for temporary video recording. In addition, the snapshots and video clips generated by events or scheduled recording can be temporarily stored for later retrieval. Dual micorSD memory card capacity storage can make it data lost-free even when no one can handle it during weekends. In addition, the unique dual slot design ensures a sufficient recording capacity for an extended period even at full frame rate and high resolution.
CAM2200 and CAM2400 will also alert the security staff immediately when tampering occurs, such as the camera is being blocked, redirected, defocused, or spray-painted. Thanks to PoE technology, when used with a compatible PoE power injector or PoE switch will eliminate the need for separate power cord wiring. CAM2200 and CAM2400 are indisputably the top choice for reliable and high performance surveillance.
An advanced tampering detection feature is also included, which is only available on selected high end cameras in the market today. When a camera is manipulated in any way (e.g. accidental redirection, blocking, defocusing, spray-painted, covered or damaged), it can automatically trigger recordings and send out alert notifications.
Features on the CAM2200/CAM2400:
Megapixel video resolution
H.264, MPEG-4 and MJPEG compression capability
Up to 2 simultaneous video streams
Removable IR-cut filter for day & night function (CAM2400 only)
CS mount design for various lens exchanging
Tamper detection for malicious intention
Built-in 802.3af compliant PoE
Built-in dual microSD/SDHC card slot for local storage
Two-way audio support

About Surveon Technology Inc.

Surveon offers surveillance equipment that leverages combined forces from fields of security industry, high-speed storage, and latest network technologies. Our reliable and cost-effective range of products comes with a wide variety of form factors and flexible configurations. Surveon is headquartered in Taipei Taiwan. For further information on Surveon and its products, please visit www.surveontech.com

Media contact

Arthur Hu

Surveon Technology, Inc.
E-Mail: sales@surveontech.com