Surveon reveals high-performance, reliable network video recorder for up to 32 network cameras
Taipei, Taiwan – September 3, 2009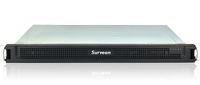 Surveon reveals a high-performance, reliable network video recorder. Featuring the most required functions for IP video surveillance, NVR2000 is a powerful and reliable embedded system which can receive and record video from up to 32 networks cameras on the network 24/7.
It also offers an option for external storage expansion to meet the requirement for long-time recording. Multi-client server architecture is an ideal solution of IP video surveillance for a medium or large installation where rack-mount servers and hundreds of cameras are desirable. With NVR2000's powerful capability, all the video streaming of network cameras on the network will be handled efficiently and stored into server database, shown at remote client PCs, motion-detected and trigger alarm when accidents happen.
A 16-Bay external disk array subsystem can be added to NVR2000. Simply plug-in a high speed interface cable to NVR2000 and the external RAID, the fully integrated control panel makes the best use of the storage expansion in an easy manner.
High performance surveillance systems require high speed Gigabit Ethernet to ensure video streams and data transmitting intact without a problem. The bandwidth is managed by NVR2000 to keep network traffic running between IP cameras, NVR servers, and client PCs effectively and flexibly.
The NVR2000 provides sophisticated playback features that allow recorded videos to be rapidly retrieved and examined. Users can view the recorded videos by searching a specific camera, time, date and event. Recordings can also be exported using standard AVI format so that they can be viewed without the need for client (viewer) software.
NVR2000 searches network cameras across the local network to ease the setup for multiple cameras with a single click. IP configuration can also be done manually in case if needed. The list of supported IP camera manufacturers is constantly updated and released from time to time.
Features of the NVR2000:
Up to 32 IP Cameras
Megapixel IP Camera Support
Multi-Client Server Deployment
Expandable External Storage Capacity
1U/4-bay Enterprise Class Rack-Mount Design
About Surveon Technology Inc.

Surveon offers surveillance equipment that leverages combined forces from fields of security industry, high-speed storage, and latest network technologies. Our reliable and cost-effective range of products comes with a wide variety of form factors and flexible configurations. Surveon is headquartered in Taipei Taiwan. For further information on Surveon and its products, please visit www.surveontech.com

Inquiry contact

Cliff Hung
Surveon Technology, Inc.
E-Mail: sales@surveontech.com