Surveon Held a Successful Exhibition about NVR Series IP Surveillance Solutions at SecuTech Expo. 2009
Surveon brought a new line of NVR recorders to system integrators and resellers worldwide at SecuTech Expo in April, 2009. The innovative technologies were introduced to the security industry with high storage capacity and dedicated performance for multiple, high-resolution, megapixel cameras leveraging the sophisticated TCP/IP network. Surveon showcased the power of the IP-based surveillance network that allows users to record and monitor videos from virtually anywhere. Most visitors were interested in network camera compatibility and NVR3000 high storage capacity. NVR3000, as the first product in the industry integrating a network video recorder with a powerful RAID controller seamlessly in one system, is able to ease the job of configuration of both NVR and RAID subsystem. Surveon is going to ship NVR3000 by the end of May.
Also, Surveon's NVR series includes the following products:
NVR3000 Network Video Recorder
NVR2000 Network Video Recorder
NVR1000 Network Video Recorder
NVR500 Network Video Recorder
For further information on Surveon and product introduction, please visit Surveon official website www.surveontech.com
Finally, thank you for your visiting our booth and sharing the precious feedbacks at SecuTech Expo.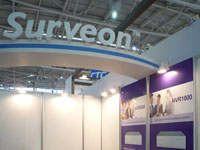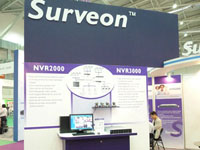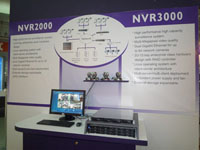 Surveon Technology is a young and dynamically growing company in the security industry. With the strong background in enterprise-class storage solutions, network communications and video surveillance technologies, Surveon Technology is committed to providing high performance and reliable security solutions to make the world a safer and friendlier environment for living. If you are interested in our products, welcome to contact us at sales@surveontech.com or visit www.surveontech.com