The overwhelming advantages of megapixel cameras in terms of image clarity have pushed the adoption from large-scale projects to any application featuring stringent customer requirements such as hospitals.

Compared to the CCTV equipment, Surveon's active monitoring, RAID NVR and end-to-end integration of the megapixel solutions can effectively increase security for hospital staff, patients, visitors, as well as assets.
Challenges
Complex Application Environment and Sensitive Operations
Security in and around hospitals is always a major concern due to the open nature of these institutions and the sensitivity of hospital operations. In addition, security requirements for many areas in the hospital, such as patient rooms and supply rooms, are much more stringent than in regular surveillance applications.
Solution Stability
The key aspects of a stable security surveillance system are the back-end storage and software/hardware integration of the overall management system. These aspects also affect the integration and compatibility of front-end IP cameras.
Table 1: The I/O and Storage Performance for 32 Cameras
| Camera Number | Resolution | I/O (Mbps) | Storage 14 Days | Storage 30 Days |
| --- | --- | --- | --- | --- |
| CIF | CIF (320x240) | 0.5 | 2.4T | 5.2T |
| D1 | D1 (720x480) | 1.5 | 7.3T | 15.5T |
| 1.3 Megapixel | Megapixel (1280x1024) | 4 | 19.4T | 41.5T |
| 2 Megapixel | 2 Megapixel (1920x1080) | 6 | 29T | 62.2T |
System Integration Risks
Most NVR solutions are purely software-based and require SIs to integrate the software and hardware themselves. The level of integration in these solutions is often low. With weak system compatibility and integration, the SI has to spend much time on certification and control.
Solutions

Surveon's comprehensive end-to-end megapixel solution with the high level of integration and certification is a cost-effective, yet reliable choice that can meet the hospital security requirements.
Surveon's megapixel cameras can cover an area six times larger than traditional CCTV cameras, which is especially beneficial to hospital security in spacious locations like the lobby and parking lots. For some specific operation scenarios, such as payment handling and medicine pickup, the megapixel cameras are used to provide six time better detail.
With Surveon's VMS client server structure users can easily monitor images from a remote site by installing a client program. This structure greatly enhances surveillance management efficiency for the hospital. Furthermore, with the real-time video analytics engine, the hospital has also been able to upgrade from a traditional passive surveillance management model to an active model featuring intelligent detection.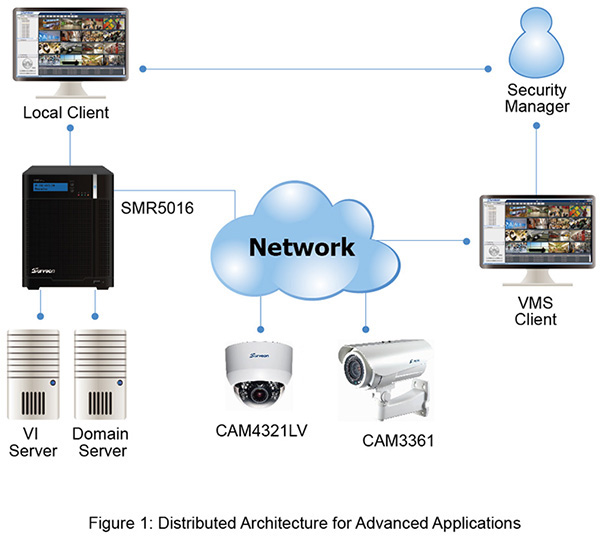 Benefits
Simple Integration, Proven Solutions
Surveon's SMR system offers support for hot-swappable disk drives and RAID protection, decreasing installation efforts and making maintenance extremely easy. The embedded hardware RAID5 accelerator ensures that the multi-channel megapixel cameras have access to the required bandwidth when recording images, reducing the instability often seen when systems are conducting high I/O operations for extended periods of time.
Professional Megapixel CCTV Solutions
VMS features such as active monitoring and smart investigation are able to meet the stringent hospital surveillance demands. The real-time video analytics can detect forbidden areas for patient rooms, supply rooms, etc. The HTML integration can easily combine different aspects into a virtual matrix. Advanced electronic maps and expansion up to eight screens at the user-end can easily meet future demand growth.
Easy Management
Surveon's wide range of product offerings, from 6- to 300-channel recording and from two to 112 disk drives, help integrators easily generate solutions for end-customers to meet camera and storage demand.


Solution Highlights
The only all-in-one solution that meets 60-day recording
Exemplary performance, distinguishingly stable HD and zero frame loss
HW RAID NVR ensures megapixel recording reliability
Real-time VI detection upgrades security managements
Complete solution simplifies project integration
Smart investigation for easy case management
100% in-house design and production
3 year warranty
Testimonials
"Combined with easy management and excellent cost efficiency, Surveon's solutions have enabled us to greatly enhance security around our premises and thereby boost the overall operations of the hospital"
Nakev Slavco, Project Integrator, NIK Sistemi