New Arrival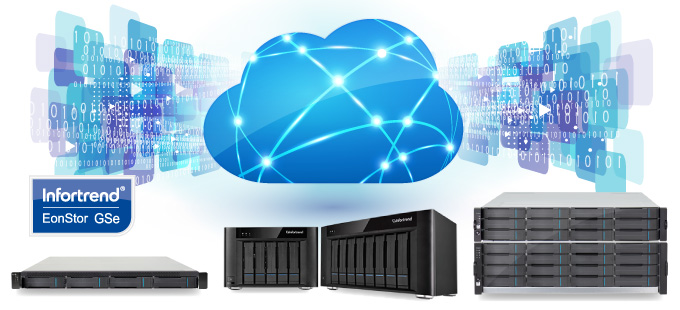 Surveon Launches High Scalability, Cloud-ready NVR for A Wide Variety of Applications
Surveon has launched a new Cloud NVR Solutions which integrates Surveon NVR license with Infortrend's cloud-integrated unified storage, EonStor GSe Pro Series, allowing partners to easily record and backup valuable data to the cloud. Aside from supporting iSCSI, NAS and JBOD expansion, Surveon Cloud NVR Solutions also allow partners to expand the storage capacity via cloud, making it ideal for a wide variety of applications such as SMB, healthcare, government, etc.

Success Case
Surveon Ensures The Safety of Malaysia's Healthcare Services Provider with Reliable E2E Solutions

With Surveon' s end-to-end surveillance solutions, including 32 cameraswith three different form factors, two professional NVRs with RAID protection for 30 daysrecording, and Surveon EnterpriseVMS (CMS) with VA for active alarm, the offices, warehouse, cold storage, and the perimeter of factory are under solidsurveillance protection to ensure safety and the services can be delivered with best quality.

Hot Topic
Surveon Launched The Smart Data Protection Storage-Server NVR5408 Series for Mid-range Projects
Surveon announced the new 2U 8-bay form factor NVR5408 will be added to the NVR5400 Series. Featuring 8-bay hot-swappable hard drives and IDR for ultimate data protection, NVR5408 supports 5MP video recording of up to 64 channels and SAS storage with up to 308 HDDs for 365+ days video retention period, making it ideal for middle-large projects such as cities, factories, schools, commercial buildings, etc.

Webinar
Register for New NVR Solutions Webinar NOW!
Through this webinar, you will learn Surveon's new Cloud NVR Solutions GSe Pro and NVR5408 Series. Join us for an introduction to find out how Surveon's brand new solutions stand out and why choosing Surveon can make all the differences to you in the next project bidding.

Application Note
How to Setup Schedule Backup to iSCSI Storage with EonOne for Linux NVR?
In this application guide we are going to introduce how to setup the iSCSI storage device, how to add iSCSI device into Linux NVR, and how to setup schedule backup for Linux NVR.