Surveon Launched The Smart Data Protection Storage-Server NVR5408 Series for Mid-range Projects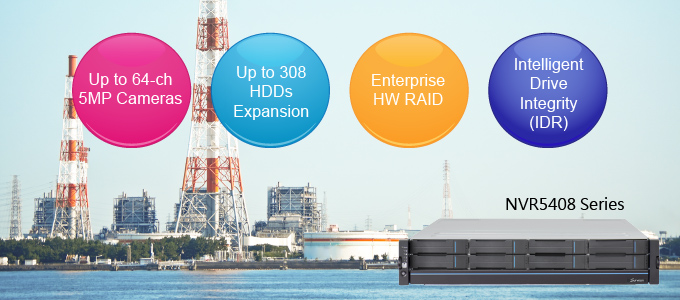 New Taipei City, Taiwan, Oct. 3, 2017 Surveon Technology, the enterprise NVR solutions provider, today announced the new 2U 8-bay form factor NVR5408 will be added to the NVR5400 Series. Featuring 8-bay hot-swappable hard drives and IDR for ultimate data protection, NVR5408 supports 5MP video recording of up to 64 channels and SAS storage with up to 308 HDDs for 365+ days video retention period, making it ideal for middle-large projects such as cities, factories, schools, commercial buildings, etc.
Ultimate Data Protection with IDR

NVR5408 Series provides high I/O, large capacity, and storage backup to iSCSI with its scalable client-server architecture. Supporting Intelligent Drive Recovery (IDR), a smart data recovery mechanism to detect and recover bad blocks, NVR5408 can copy and clone data before a disk fails, providing ultimate protection for important data.
Built-in Enterprise VMS & Web-based Management Tool - SurveOne
NVR5408 Series comes with Surveon intuitive VMS with real-time analytics, remote monitoring, central management, and TV wall matrix via Surveon Control Center (SCC), which offers abundant features to deliver professional performance. Besides, Surveon provides SurveOne, a web-based management tool, which supports online monitoring for users to easily check the health of the system to ensure the consistent stability.
Available with Linux OS and Surveon enterprise VMS, the NVR5408 Series initial shipment is scheduled at the beginning of October. For more reference about the product, please visit: www.surveon.com
About Surveon Technology Inc.
Surveon Technology offers end-to-end network video surveillance solutions that showcase our expertise in professional camera design, RAID NVR, high-availability video storage, embedded firmware and video management software. All Surveon products are designed in-house and manufactured on our ISO 9001 and ISO 14001 certified production site to ensure the highest quality for our partners. For more information about Surveon vertical solutions, please visit at www.surveon.com
Media Contact
Nidya Yu
E-Mail: nidya.yu@surveon.com
Inquiry Contact
Surveon Technology, Inc.
E-Mail: sales@surveon.com