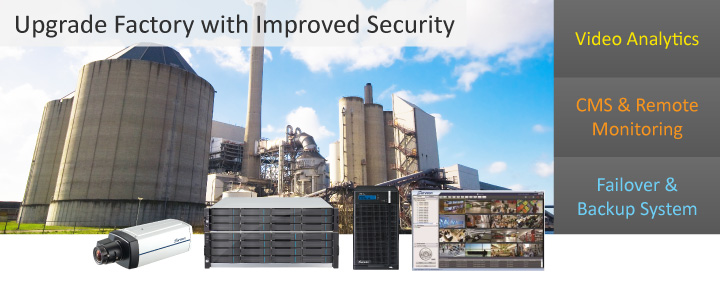 With raw material and goods that often time possess tempting monetary value, it is important for facilities to deploy an efficient surveillance system to protect their property and assets away from possible theft. The enhanced video quality of IP cameras and megapixel recorders are proved to be beneficial for various industrial facilities because of the wider monitoring area and longer recording retention period that are required.
Before designing a suitable surveillance system for factories, you might encounter some challenges as below:
Broad and Uncovered Space
Due to the limited number of security guards, not all the places can be under proper monitoring. As the demands for high resolution images and remote monitoring, traditional DVR solutions are no longer able to meet surveillance needs for industrial applications.
24/7 Non-stop Recording
Megapixel solutions offer significant benefits for surveillance operations, but the large number of megapixel cameras and the need for 24/7 recording present many difficult issues for the system integrator. A reliable system and large storage capacity could be the main consideration when it comes to a proper surveillance system.
Surveon Makes the Differences in Industrial Surveillance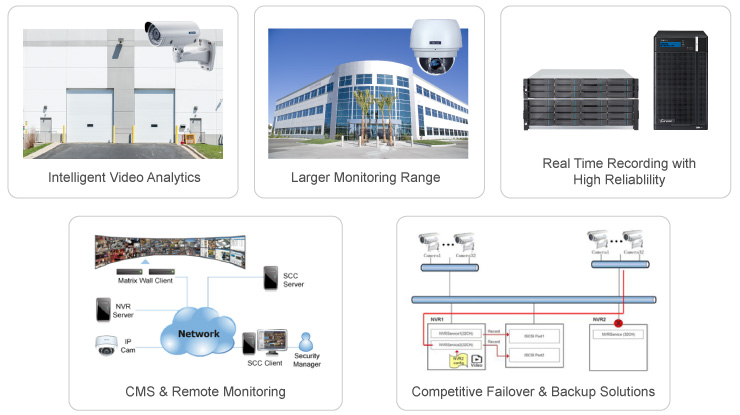 Larger Monitoring Range
Surveon 3 megapixel cameras provide 1.5-time larger monitoring range at 30 FPS, becoming a cost-effective option for monitoring wide areas, such as outside yard of factories.
Real Time Recording with High Reliability
A dedicated SMR and storage server NVR5400 Series ensure recording of all the images with high resolution for a period of 180 days with stability and reliability.
Competitive Failover & Backup Solutions
Surveon Failover solution allows failover NVR to work normally and only use failover licenses to take over recording from the failed NVR when needed, reducing the cost of spare NVR, making it a best C/P solution for industrial applications.
CMS & Remote Monitoring
With SCC (Surveon Control Center) centralized system, users can easily monitor images from a remote
site by installing a client program.
Intelligent Video Analytics
Surveon's hardware RAID NVR makes capturing, analyzing, managing and searching video surveillance easier and faster. Its active VI detection has a pre-configured base for a number of scenarios, such as intrusion detection in and around the factory, examination of important gates detection.
System Architecture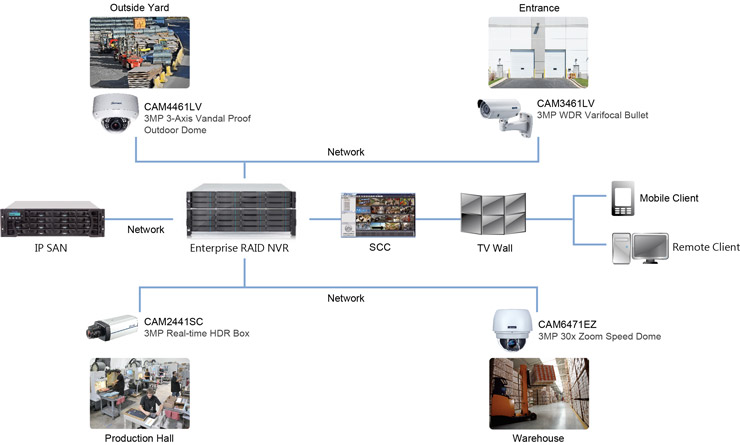 Success Stories