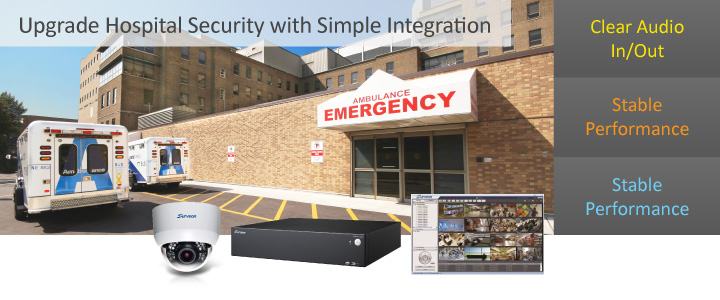 Security in and around hospitals is always a major concern due to the open nature of these institutions and the sensitivity of hospital operations. To protect hospital staff, patients, visitors, as well as hospital assets in many areas in the hospital, the security requirements are much more stringent than in regular surveillance applications.
To fulfill the requirements of designing a suitable security system for healthcare, even experienced system integrators might encounter some following challenges:
Complex Application Environment and Sensitive Operations
Many people, including patients and their families, medical professionals, as well as hospital suppliers are bustling in many areas in the hospital every day. The open nature of healthcare institutions makes surveillance a challenging operation as many areas in the hospital, such as patient rooms, supply rooms or medicine pick-up counter, need much more stringent monitoring than in regular surveillance applications.
Remote Monitoring from Any Site
Due to the limited security guards and staff for patients care, remote monitoring is required for hospital applications.
Stable Performance
The 32 channel megapixel project seemed pretty straightforward, but in terms of CCTV systems this would equal 256 CIF camera recording, and the high bandwidth and storage demand of these cameras could generate major challenges in terms of overall application quality and stability.
Surveon Makes the Differences in Healthcare Surveillance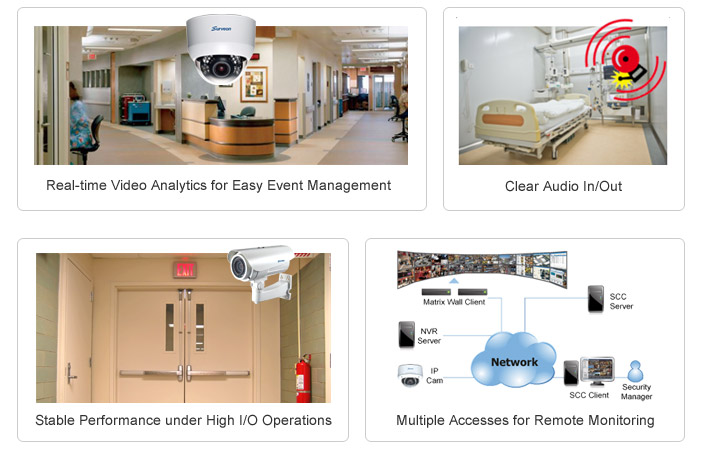 Real-time Video Analytics for Easy Event Management
Surveon VMS provides real-time video analytics to detect forbidden areas for patient rooms, supply rooms and so on. Advanced electronic maps and expansion up to eight screens at the user-end can easily meet future demand growth, protecting the patients and staff from threats in time.
Clear Audio In/ Out
Surveon dome cameras support audio in/ out with phone jacks, providing hospital an easy way to record and manage the conflicts or disputes in the emergency room.
Stable Performance under High I/O Operations
The embedded hardware RAID accelerator in Surveon NVR ensures that the multi-channel cameras have access to the required bandwidth when recording images, reducing the instability often seen when systems are conducting high I/O operations for extended periods of time.
Multiple Accesses for Remote Monitoring
With multiple accesses from web, remote, and mobile clients, the security guards of hospital can manage surveillance anywhere and prevent the incidents such as thefts or other illegalities in time.
System Architecture