Surveon Cloud NVR Solutions support SAN, NAS, DAS and Cloud in ONE unified storage system for data storage, folder sharing and cloud backup, making it ideal for a variety of vertical markets. Is it really necessary for high investment to handle both surveillance and data storage? Is it complicated to backup data into cloud storage? Here comes the best C/P value unified cloud NVR storage.
Why you need Surveon Cloud NVR Solutions?
Single Device with Both Storage and NVR
Long Data Retention Period with Large Capacity
Double Data Protection with Auto Sync Replication to Cloud

| | |
| --- | --- |
| ▪ | One device for both storage and surveillance makes it become the best C/P backup and storage solutions. |

| | |
| --- | --- |
| ▪ | Up to 428 drives for long-time storage and years recording. |

| | |
| --- | --- |
| ▪ | Automatically replicate data to cloud for backup and disaster recovery. |
How to choose the right storage architecture for my project?
For Retail, SMB and SOHO
NAS+NVR

▪

Single device fulfills both storage and surveillance needs.

▪

Best C/P backup and storage solutions for SMB.

▪

Easy file sharing with various built-in services.

▪

Flexible expansion of storage capacity for future scale up.
For Data Center and Bank
DAS/SAN+NVR

▪

Up to 428 drives for long-time storage and years recording.

▪

Smooth service to large workforces.

▪

Superior data transfer performance for IOPS/throughput-demanding applications.
For Enterprise and Multinational Corporations
NAS+NVR+Cloud

▪

Automatically replicate data to cloud.

▪

Flexible cloud capacity usage and disaster recovery.

▪

Easy data management and lower local maintenance cost.
What are the advantages of these storage architectures?
1. High & Stable Performance
With Surveon's unique technology and architecture, data can be directly written to block level storage, enabling better performance than competitor products that need to write first to the file level and then to the block level, resulting in too much overhead.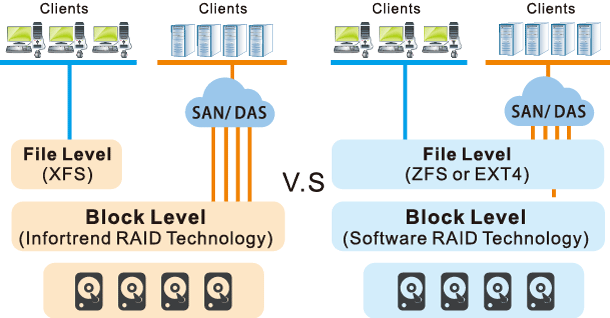 2. Rich Built-in Application Services
NAS supports cross-platform NFS, CIFS, AFP folder sharing, assisting daily operations including file storage, backup, sharing, synchronization, and more. And its application services include SyncCloud, File Explorer, Syslog Server, VPN Server and Proxy Server, assisting partners simplify IT environment deployment.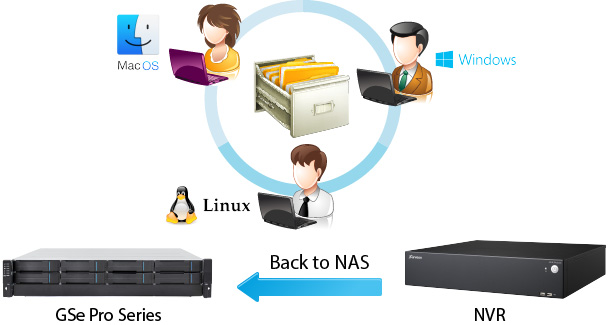 3. Premium Value of Cloud+NVR
Surveon Cloud NVR Solutions integrate public and private cloud, provide powerful data services (local / remote replication, SSD cache, automated storage tiering, thin provisioning, etc.) and cloud-integrated features (data cache, tiering, and backup), which delivers high performance services with cost-saving in mind to our partners.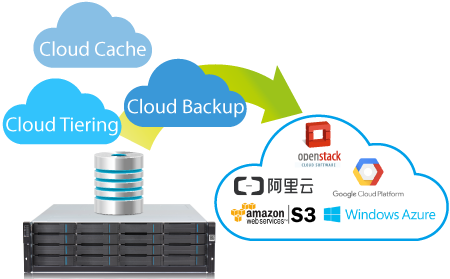 Product Portfolio
GSe Pro 1004
GSe Pro 3008
Position
Rackmount Unified Storage at An Affordable Price
Scalable Unified Storage with An Affordable Price
CPU
Intel Atom 4C, 2.40 GHz
Intel Pentium-D 4 Core 1.60 GHz
Max. memory Size
32GB (DDR-3)
64GB (DDR-4)
Cache Protection
No BBU/Super capacitor options
Super capacitor + Flash module
Host Board Design
N/A
2
Drive Side
6Gb/s SATA
Additional Host Interface Options
N/A
16Gb/s FC, 8Gb/s FC, 10GbE FCoE, 40GbE/iSCSI, 10GbE/iSCSI, 1GbE/iSCSI, 12Gb/s SAS
Form Factors
1U 4-bay Rackmount
2U 8-bay
Recommended Applications
SMB, SOHO, Retail and Restaurant
Enterprise, Data Center and Bank
(3.5") SATA Models

1U 4-bay GSe Pro 1004

2U 8-bay GSe Pro 3008