| | |
| --- | --- |
| | As an experienced professional in video recording and storage, Dr. NVR aims to share some insights on the factors you could take into account when specifying suitable NVR for your projects. In this chapter, Dr. NVR will explain why the system with scalable storage is important for your projects and introduce you different ways to expand the storage capacity of system. |
What is storage expansion?
| | |
| --- | --- |
| Most large scale and critical projects such as bank and city surveillance are required for long-time recording and longer data retention days. To reduce the total cost of increasing storage demands, different storage expansion solutions based on three different kinds of storage architectures are designed by IT pros. These storage architectures are DAS, SAN, and NAS. DAS (Direct Attached Storage) is an external storage system which is directly attached to a server without network in between. SAN (Storage Attached Network) is a network of storage devices that can be accessed by multiple servers. NAS (Network-Attached Storage) is a file-level storage device which is connected by IP network. | |
Base on above storage architectures, IT pros design multiple storage expansion ways, through SAS(connect JBOD), iSCSI, NAS or cloud to easily expand the storage capacity of surveillance system.
What are the advantages of storage expansion?
| | | |
| --- | --- | --- |
| Scale up the storage capacity anytime | | Save budget with buying up in batches |
| Base on the different demands happened at different time, the enterprise-level storages allow users to expand the storage capacity through iSCSI, SAS, NAS, etc. anytime. | | With expandable storage system, users can buy and add the storages at different time to cope with the limited budget of project, such as government case. |
Why choose Surveon's storage expansion solutions?

▪ Flexibility

Scale up the storage capacity by budget/ demand/ time.

▪ Reliability and Performance

High speed reliable performance are further enhanced with JBODs connected.
▪ Large Capacity
Support 400+ hard disks expansion.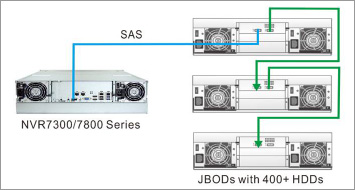 Which NVR with storage is suitable for my project?
Project Segment
Application
Suggested NVR
Storage
Expansion
Recommended Storage's Picture
Professional
(16-32 Channels)
SMBs, Healthcare, Retail, Intelligent Buildings, Transportation, Restaurant
SMR2110
SMR5110
NVR3104
NVR3304
iSCSI/NAS
Enterprise
(16-64 Channels)
Education, Commercial, Industrial, Logistics, Harbor, Government, Traffic, City Surveillance, Residential
SMR8300
NVR3308
iSCSI/NAS
NVR2100
iSCSI/SAS
NVR5400E1
iSCSI/NAS/JBOD
Corporate
(32-128 Channels)
Banking, Airport, Casino, Critical Infrastructures
NVR5400A1
NVR7300
NVR7800
iSCSI/NAS/JBOD
More Storage Solutions >>