If you are unable to read the complete message, please visit here.

| | |
| --- | --- |
| | As an experienced professional in video recording and storage, Dr. NVR aims to share some insights on the factors you could take into account when specifying suitable NVR for your projects. In this chapter, Dr. NVR will introduce Failover and show how it minimizes the risk of video recording loss and why it matters to critical surveillance applications. |
What is Failover?
The technology allows recording to be continued by collaborative NVRs within the system when the recording stops due to unexpected incidents. The NVR with Failover function can record for other NVRs when it fails. For example, two NVRs (NVR1, NVR2) are performing recording under normal situation while NVR1 is with Failover function and NVR2 is the protected NVR. When NVR2 is detected as no responding or working for certain time, the system will be determined as failed. NVR1 will start importing NVR2's configuration and take over to record for NVR2 automatically to prevent video loss.
Why you need Failover?
Accidents such as power off may interrupt the video recording. To avoid losing the video that might serve as key evidence to important event, it is necessary to take precausion at any rate and ensure the recording process won't be affected under any circumstances, especially in some mission-critical projects such as banking and internet service provider. When Failover is applied in the surveillance system, it allows one or more NVRs to be Failover NVRs and take over recording when protected NVR fails. Failover ensures the system can keep working without worry of video loss.
Why choose Surveon Failover solution?
Distinguished from other failover solutions, Surveon provides a flexible system architecture to implement mutual recording backup among multiple NVRs without keeping a spare one just for this purpose. The failover NVR not only supports video recording, but also provides seamless live view and playback of the videos from the failed NVR if the videos are recorded to the external storage. Moreover, Surveon Failover solution allows the license of camera to be shared with the Failover ones, making it the best C/P solution for large applications.
Surveon provides 2 unique Failover operation modes: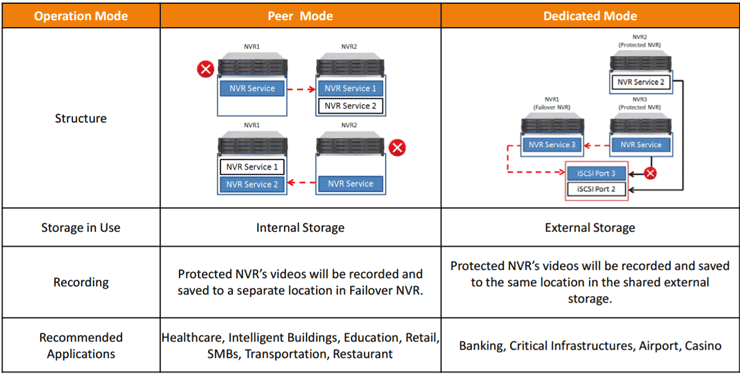 More Details >>
Which NVR with Failover function is suitable for my project?
Project Segment
Applications
Suggested Mode
Recommended NVR Solution
Product Picture
Enterprise
(16-32 Channels)
SMBs, Healthcare, Retail, Intelligent Buildings, Transportation, Restaurant
Peer Mode
NVR3308
Corporate
(16-96 Channels)
Education, Commercial, Industrial, Logistics, Harbor, Government, Traffic, City Surveillance, Residential
Collaborative Mode
NVR5412
NVR5416
Mission-critical
(32-128 Channels)
Banking, Airport, Casino, Critical Infrastructures
Dedicated Mode
NVR7312
NVR7316
Copyright ©2017 Surveon Technology, Inc. All rights reserved.