Surveon Held a Successful Exhibition of Digital Video Surveillance Solutions for Security Industries at Intersec 2010, Dubai, UAE
Taipei, Taiwan – Jan 15, 2010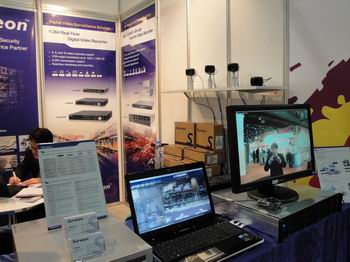 Surveon brought a new line of NVRs and network cameras to system integrators and resellers worldwide at Intersec 2010, Dubai, UAE. The innovative technologies were introduced to the security industry with high storage capacity and dedicated performance for multiple high-resolution, megapixel cameras leveraging the sophisticated TCP/IP network. Surveon showcased the power of IP-based surveillance network that allows users to record and monitor videos from virtually anywhere. Most visitors were interested in the high compatibility of the network cameras and the high storage capacity of the NVR3000. The NVR3000, as the first product in the industry integrating a network video recorder with a powerful enterprise-level RAID controller seamlessly in one system, is able to ease the job of configurating both the NVR and the RAID subsystem.
Surveon's CAM2200 and CAM2400 with high performance built-in megapixel CMOS and CCD sensors providing extremely high quality video also impressed the crowd. With SONY megapixel CCD sensor and removable IR-cut filter design, the CAM2400 has a superior performance with enhanced image quality even under low-light conditions.
The unique dual microSD memory card slot design in our camera is a breakthrough among the entire exhibition. To avoid any unexpected recorded video loss due to connection failures, our cameras are equipped with dual microSD memory card slots as a backup storage for temporary video recording. In addition, the snapshots and video clips generated by events or scheduled recording can be temporarily stored for later retrieval. Dual microSD memory card storage can make it data loss-free for extensive periods of time such as the entire weekend.
For further information on Surveon and product introduction, please visit Surveon's official website www.surveontech.com
Finally, we would like to thank you for visiting our booth and sharing your precious feedbacks with us at Intersec.

Surveon Technology is a young, dynamic, and fast growing company in the security industry. With the strong background in enterprise-class storage solutions, network communications and video surveillance technologies, Surveon Technology is committed to providing high performance and reliable security solutions to make the world a safer and friendlier environment to live in. If you are interested in our products, please contact us at sales@surveontech.com or visit www.surveontech.com.